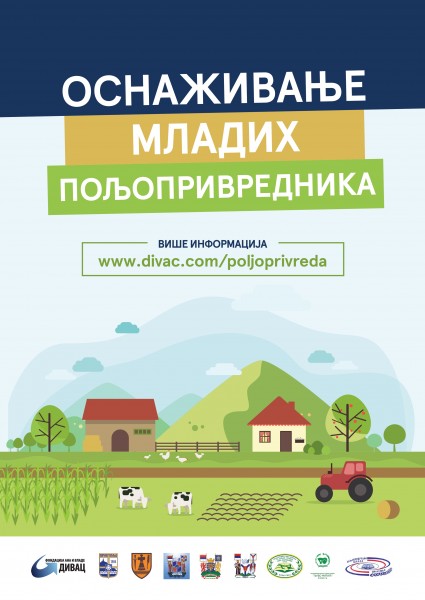 Ana and Vlade Divac Foundation together with partners implements a project aimed at supporting young farmers and students of their final year of secondary agricultural schools in Požarevac, Prokuplje and Požega.
The project is supported by the three already mentioned agricultural schools and the towns of Požarevac and Prokuplje, as well as the municipalities of Požega, Gornji Milanovac, Žagubica and Arilje.
In 2019, supported with donations from the partners, we have secured a budget of 4,710,000 dinars, which will be used solely as funds to enable 33 young farmers to work, whose business ideas were ranked as the best by the joint commission.
The cooperation documents signed by all the partners and students were presented with a program and results from last year. Also, they were invited to submit their business ideas. The committee selected students with the best business ideas whose families we visited to see the capacity and potential for developing the family farm. By the end of the school year, 33 young farmers have been selected and received valuable donations during the summer which is an additional incentive to pursue farming.
We try to motivate students and encourage them to develop their business ideas and in turn develop the family farm. It is important for us to help them compete in order to support competitions for young farmers starting from local up to the national level. Their families are advised to register the farms in the young people's names, thus further supporting them, but also giving them more incentives to compete.
We always want to reward young people with the best ideas and therefore provide them with donations at an average value of about 150,000 dinars needed for their farm. Mostly we procure mechanization attachments, pets, seedlings, greenhouses and other equipment.
We look forward to cooperating with the young people and investing in their future and motivating them to pursue a career in agriculture. We believe that this approach and project should show good results and may hopefully be extended into other agricultural schools in Serbia. In 2018, we implemented such a project in two secondary agricultural schools and supported 16 young farmers with donations worth 2,750,000 dinars.
In 2019, we supported 33 young farmers with 4,710,000 dinars and we are planning to further expand the project in the upcoming school year.