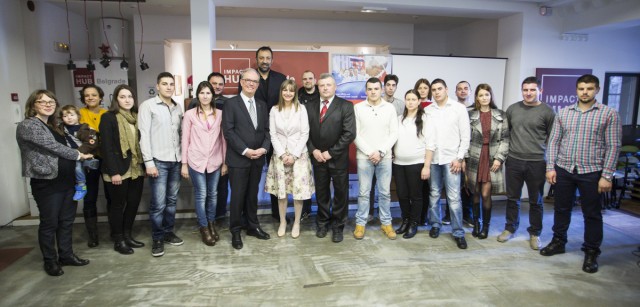 On today's conference "Support to the youth in agriculture" of the Ana and Vlade Divac Foundation the results of the support to the youth to start and develop their own business in agriculture within which 15 young farmers will receive support in equipment and other means in the amount of 330.000 dinars per beneficiary.
This Ana and Vlade Divac Foundation project is implemented thanks to the support of the Canadian Embassy which provided funds for the support of five young farmers and today contracts were signed with 10 more candidates that were selected within the Public Call and will receive support thanks to the donation of our longtime friend and donor of the Foundation, Mrs. Ann Erne from the USA.
The Ambassador of Canada in the Republic of Serbia, H.E, Philip Pinnington expressed satisfaction with the successful implementation of the project and readiness to continue the cooperation with the Ana and Vlade Divac Foundation. He also presented the Canadian experience in agriculture and stated the means of support of their farmers.
The State Secretary of the Ministry of Agriculture and Environmental Protection of the Republic of Serbia, Željko Radošević, attended the conference who stated that the Ministry and its extension services are ready to provide the necessary expertise to support the project for the youth in agriculture assistance through cooperation with the Ana and Vlade Divac Foundation. He said that it is necessary to work on the promotion of life in rural areas and work in agriculture, but also to ensure for comfortable living conditions and work in rural areas for the youth.
The founder of the Ana and Vlade Divac Foundation, Vlade Divac emphasized that the Foundation will continue to support young people in the future, but he also said that the receivers should be persistent and continue to go towards their goal.
The participants of the conference had the opportunity to try agricultural products of some of the selected grant beneficiaries and on behalf of all the selected beneficiaries Jelena Marić from Srbobran, who started her own goat farm and produces goat cheese thanked all the donors and shared her experience.