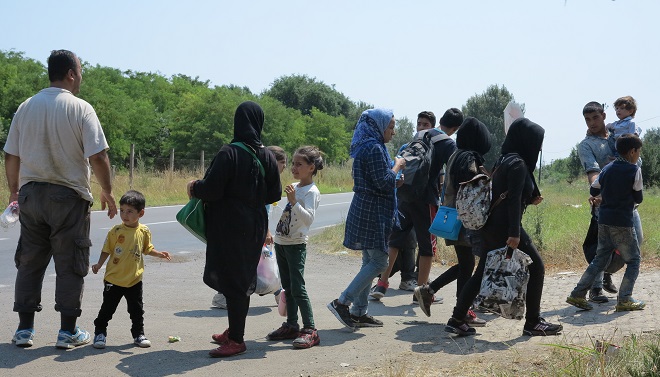 PREVENT ANOTHER HUMANITARIAN DISASTER JOIN US IN HELPING MIGRANTS PASSING THROUGH SERBIA!
From its founding, Ana and Vlade Divac Foundation helps refugees and displaced persons and together with numerous donors we provided homes for more than 3.000 people, children, women and elderly. Now, again, some new refugees and exiles in our country, are helpless as our people 20 years ago. They need our help!
WE INVITE YOU TO HELP US PREVENT HUMANITARIAN DISASTER
Over the past few months, millions of people have fled their homes in the Middle East, Africa and Asia, escaping war, disaster and other crisis. These forced migrants are on the move seeking asylum and a better life in the European Union. To do so, they are travelling thousands of miles and facing many forms of danger on their path to a better life, with Serbia being one the countries they transit and the last before entering the EU. Since January 2015, more than 100,000 migrants have entered Serbia.
Unfortunately, due to political or economic reasons, thousands of families have been forced to stay longer in Serbia than they originally planned to and are now facing a difficult situation. Many have spent their savings and are now sleeping out in the open in inhumane conditions that endanger both their health and safety. Because of the lack of basic hygienic conditions in the ad-hoc locations where migrants have gathered, they are exposed to disease and the elements, and at risk for the emergence of a greater humanitarian catastrophe and possibility of epidemic. Throughout the country, families with children spending their days and nights in open fields, but cold weather is coming in a matter of months and this will no longer be possible.
According to needs assessments from the field, the most urgent needs are the provision of mobile toilets, mobile showers and temporary shelters. Currently, the most difficult situation is in Subotica and Kanjiza where migrants are arriving and gathering spontaneously in inhabitable facilities without even the most basic sanitary conditions. Every day, more than 2,000 new migrants arrive in these two municipalities and spend on average 3 to 5 days there before attempting to continue their journey further.
JOIN US TO HELP PEOPLE IN NEED AND PROVIDE THEM WITH BASIC HYGIENIC AND SLEEPING CONDITIONS