Catholic Relief Services – CRS and Ana and Vlade Divac Foundation have reconstructed 13 out of 18 barracks within the refugees` and migrants' assistance center Krnjača through several different projects. The total value of the reconstruction activities is 1,2 million USD that has provided adequate accommodation for 800 people.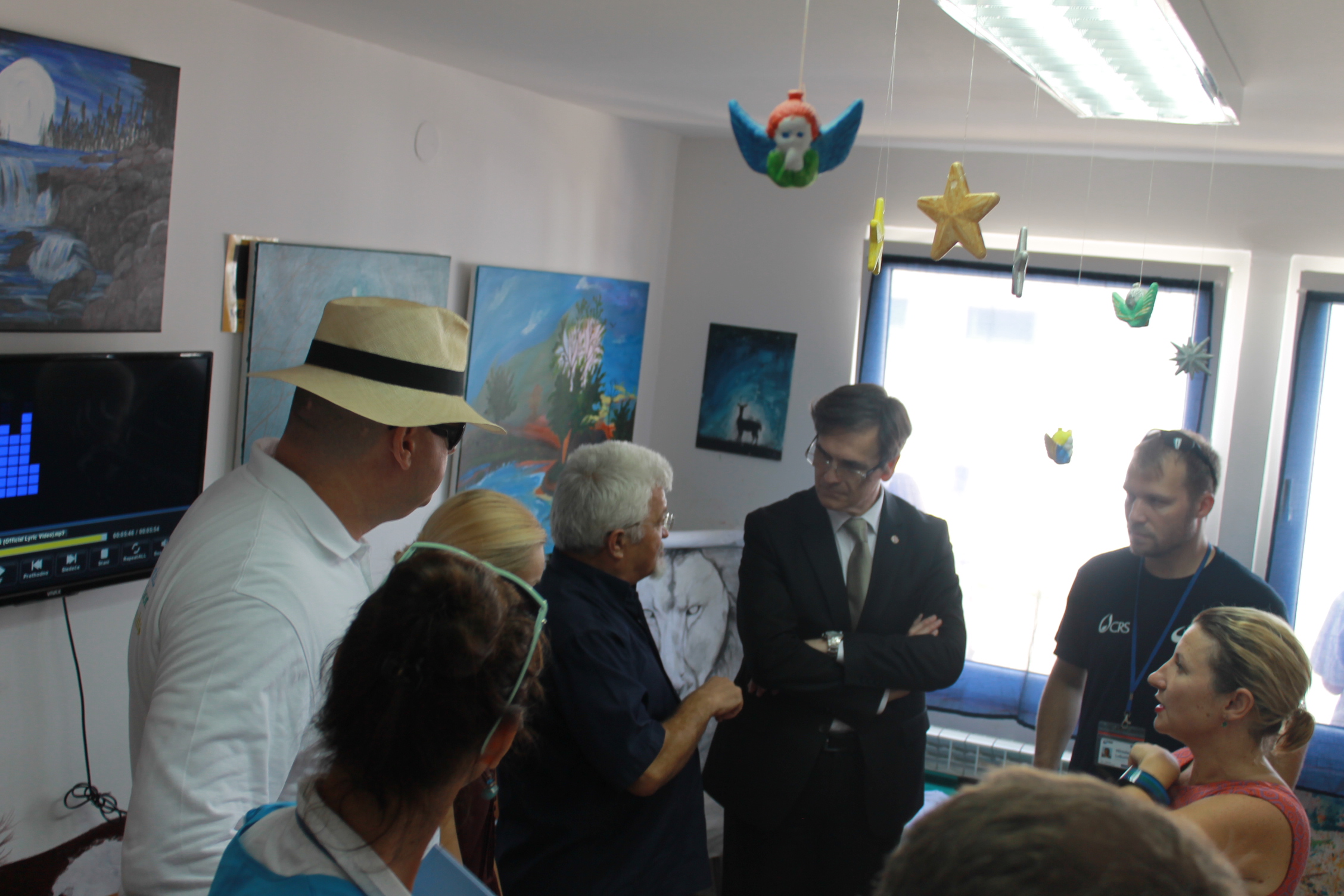 The representatives from the Commissariat for refugees of the Republic of Serbia, Ministry of labor and social/veteran welfare of the Republic of Serbia, Catholic Relief Services - CRS, Ana and Vlade Divac Foundation, UNHCR as well as media visited five out of thirteen reconstructed barracks and spoke to the people accommodated in Krnjaca on that occasion.
Nenad Nerić, the State Secretary with the Ministry of labor, employment, social/veteran welfare of the Republic of Serbia stated that now there are 5000 refugees residing in Serbia.
"In the last two years when one million refugees have passed through our country we have shown that we are capable of coping with such an influx. At this moment, our capacities are planned for 7,000 persons. Luckily for us and those arriving to Serbia, the numbers are decreasing and we hope the new influx is not going to take place", Nenad Nerić added. "The period of stay for refugees within Serbia is from 3 to 6 months. At this moment, I think it is longer and that they are aware of it and we are ready to make that 6 months stay dignified for those who took refuge and have a life problem."
"Since the beginning of the refugee crisis Catholic Relief Services - CRS managed to contribute 10 million USD in private donations from the US, American Catholics, donors, governments, states within Europe but also worldwide. In Krnjača we have invested 1,2 million USD, while a total of 3,5 million USD has been invested in different activities for refugees together with the Divac Foundation, Serbia wide.
Our activities are not only related to the reconstruction and accommodation, but also to provision of medical assistance and translation services i.e. removing language barrier that refugees face in interaction with the government intuitions and doctors. We continue to proceed in the positive direction for them and make their stay in Serbia dignified ", said Dino Mujanović, the Head of Catholic Relief Services office for the Republic of Serbia.
"We are aiding through the existing systems of the Republic of Serbia, without creating parallel ones, while adding to the existing capacities in order to insure human dignity for those that we are obliged to help", added Dino Mujanović.
Ana Koeshall, the Director of the Ana and Vlade Divac Foundation stated that "The year 2017 has been a year of Solidarity for the Divac Foundation - 10 years from the launch of the Foundation. Back then our first work was here in Krnjača in cooperation with the Commissariat.
"Back then we started taking care of the displaced persons and refuges from the former Yugoslav republics. Unfortunately, in August 2015 another refugee crisis started and we have joined. CRS is one of our main partners and donors, as Dino Mujanovic mentioned together with them we have invested 3,5 million USD in different refugee centers in Serbia. We worked together in the refugee center in Kikinda, then Tutin - that will be complete on august 31, but we also work in Vranje, where a child friendly space was completed and an ambulance will be finished soon within the refugee center."
"Besides all this we are very much engaged in the occupational activities. There are over 700 people accommodated in Krnjača now, and they should engage themselves somehow. In cooperation with the Commissariat and the Ministry we are planning the coming period, when various activities in collaboration with different local institutions will be in place so that the refugees would be able to complete craft courses, receive a certificate and use the knowledge further", Ana added.
"That is why we also invest in the local administrations that are enduring the burden of the refugee crisis - we invested in 7 schools and made donations to hospitals", Ana Koeshall concluded.
Zahlas (Afghanistan), one of the girls who participates in the clothes painting and creation workshop in Krnjaca, shared her story with the journalists: "The travel to Serbia was extremely dangerous. There were times when we stayed in the woods without food or water, without the basics for five days. And in some countries police was following us. One of the reasons I left Afghanistan is to make something out of my life, to make a career since that is impossible in Afghanistan. In the future, I would like to become a doctor, a good one and to help people."