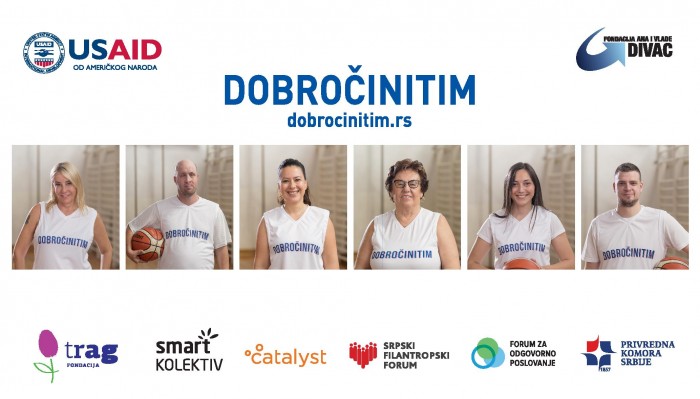 BELGRADE, 11/29/2019 - The first national philanthropy team of Serbia - DOBROČINITIM was introduced to the public. DOBROČINITIM is an association of generous people who embrace Serbian philanthropy tradition and understand the meaning of helping others.
The members are Ivana Radojičić (Prevodilačko srce), Tamara Klarić (Nurdor), Ružica Popović (Humano srce Šapca), Zoran Martinov (Čep za hendikep), Filip Vukša, well known city activist and Ana Divac (Ana and Vlade Divac Foundation).
At the moment, through individual activities, the members of the team gathered 57 million dinars for renewal of one Clinic Center and one Home for orphans, they gathered money for the restoration of 90 households, translated over 250.000 health care documents for free, provided 85 orthopaedic supplies people with disabilities and had a direct influence on significant improvement in many parts of Belgrade.
"All of us, voluntaries in Prevodilačko srce association, are doing it only because of children and their parents so that they can get the help they need. We are absolutely committed to it, but because every day we have more requests for translations, we are asking everyone who can to join us. It's an honour to be among people that are on the first line of Dobročinitim and I hope that more of us will be very soon", said Ivana Radojičič, one of the coordinators of Prevodilačko srce association.
Tamara Klarić, one of the initiators of "Pruži korak" the campaign, called everybody to join Dobročinitim. "Our goal is to unite citizens in donating, volunteering and helping the local society. We believe that every step is significant and that any kind of help greeted I equally important. That's why all good-doers are welcomed in one big national team - Dobročinitim!", Tamara said.
Information about joining is available on website dobrocinitim.rs.
Dobročinitim is part of the USAID-funded Framework for Giving project and implemented by Coalition for Giving, led by the Ana and Vlade Divac Foundation. Other Coalition members are the Trag Foundation, Catalyst Balkans, SMART Kolektiv, the Serbian Philanthropy Forum, the Responsible Business Forum, and the Serbian Chamber of Commerce and Industry.