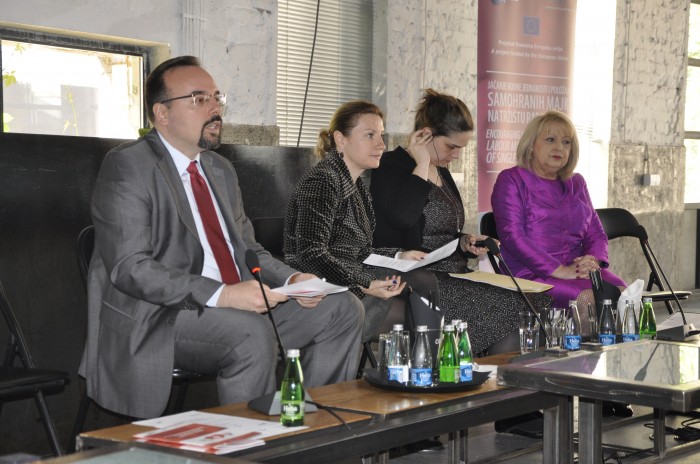 Bearing in mind data that shows Serbia as the forefront of the region when it comes to reconciling working and parenting, we had organized a national conference "Work and Parenthood in Serbia" to draw public attention to this important topic and to find solutions to improve social-economic and labor rights of single parents.
According to statistics, 85% of single parents find their position at risk. Problems also arise because the term of a single-parent family and single parent is not clearly defined and their distinction is not clearly defined.
During the conference, participants were presented with the results and proposals of an analysis by Ana and Vlade Divac Foundation The position of a single parents in the work market in the Republic of Serbia, which aimed to gather information on accessing the labor market and the causes of unemployment of parents caring for their children alone and it provided proposals for upgrading policies in this area.
"Policies on harmonizing family and professional obligations are becoming an increasingly important field of state intervention. The state seeks to help parents to fulfill their needs and to balance parenting and work activity, through various measures as much as possible. There is also a piece of information on employers' attitudes and their willingness to support parents, which we have collected through the publication "Harmonization of work and parenting", said Slavica Đukić-Dejanović, Minister without portfolio for demography and population policy.
Leoneta Pajer, representative of the Delegation of the European Union to the Republic of Serbia, emphasized that "reconciling work and parenting is a daily challenge for women and men throughout Europe. The new EU directive aims at flexible working hours, among other things and taking parental leave for fathers after the birth of a child, which aims to help employed parents. The European Union will continue to support projects such as this so that the fight for a fair and inclusive society will continue. "
"Since 2009, Ana and Vlade Divac Foundation has been supporting self-employment and entrepreneurship and social entrepreneurship and supporting civil society organizations that work with children and families, mothers and women. So far, more than 60 women have been supported through the allocation of funds for starting or expanding a business. Divac Foundation also provides the necessary humanitarian assistance to the most vulnerable single-parent families each year, said Ana Koeshall, director of Ana and Vlade Divac Foundation, who also stressed the importance of the EU Delegation's support in Serbia on this subject, as well as cross-sector cooperation between partners and companies.
Numerous associations of parents and women also attended the conference.
The National Conference was organized within the project Encouraging gender equality and labour market participation of single mothers in Serbia ", which is implemented by Ana and Vlade Divac Foundation in partnership with the Centre for Dignified Work and the Office for Cooperation with Civil Society, with financial support from the European Union, within the European Instrument for Democracy and Human Rights.