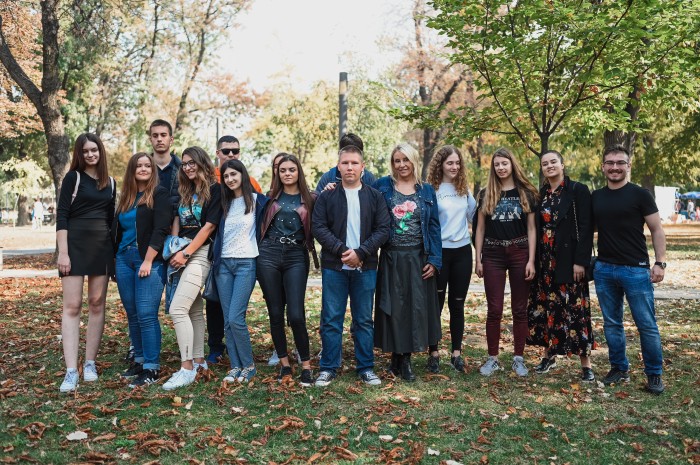 Ana and Vlade Divac Foundation, with partners, donors and citizens, channelled $ 2.1 million to help citizens in 2019. More than 20,000 people have received help through various humanitarian & development projects and activities. The focus was on the development of local communities and rural areas of Serbia through agricultural and other grants, support for youth projects, economic empowerment of the most vulnerable social groups, development of social entrepreneurship and retraining in the IT sector. The Foundation, with its partners, was especially dedicated to the strategic development of philanthropy and charitable culture.
During the past year, we provided 11 vulnerable families in Kosovo and Metohija with heating, food and furniture and renovated homes for 5 vulnerable families in different parts of Serbia. For the first time, three families in Prijepolje area have the bathrooms in their homes.
We've awarded 137 scholarships across Serbia to students who achieved excellent results at school and originate from socially vulnerable families.
Additionally, The Foundation, with a group of donors from the United States, has continued the IT Bootcamp program - a non-profit IT school for retraining. In 2019, it was completed by 202 students in Belgrade and Niš, of which 45% found a job or internship in this field.
Through our support towards agricultural development, 115 agricultural households with more than 500 members started and developed their businesses or agricultural manufacture. We assisted with donations of domestic animals, agricultural machinery and construction materials.
We also supported 43 civil society organizations in Serbia and helped them arrange public spaces in their town or assist the most vulnerable citizens in their local communities. Six grants were given for women entrepreneurship.
Pavlina's Bridge, over the Banja River, was built to ease the lives of 500 residents of 7 villages in the area, who were cut off from Kuršumlijska Banja.
We provided 550 food packages and personal hygiene products for the most vulnerable families as well as 12,000 meals for the users of the church's soup kitchen.
The Foundation supported the Animal Shelter for 350 dogs and 100 cats in Mladenovac.
In 2019, we published several exclusive surveys: "Research on Charitable Culture in Diaspora ", "The Survey on the Position of Young People Living and Working in Rural Areas", "How Much Does the Local Self-Government Invest in Youth Policy Implementation?" and "Index of Participation of youth at the social, economic and political level"
Throughout the year we worked with partners on the development of the philanthropy development activities and public campaigns. We presented the "Really Important Card", that is the first consumer card for the common good in 6 Serbian cities, bringing together local organizations, local governments, citizens and local businesses around one goal - improving the quality of life in these cities.
We worked with The Philanthropy Development Council of the Government of Serbia through three working groups. We also contributed to the increase in non-taxable part for scholarships and loans of students from 11.741 dinars to 30.000 dinars a month.
We want especially to extend our thankfulness to the media, without who the words our charitable actions wouldn't have reached our citizens. Thank you for more than 830 media reports in 2019. Ana and Vlade Divac Foundation thanks all the citizens, partners, media and donors for their trust, and support over the past year!