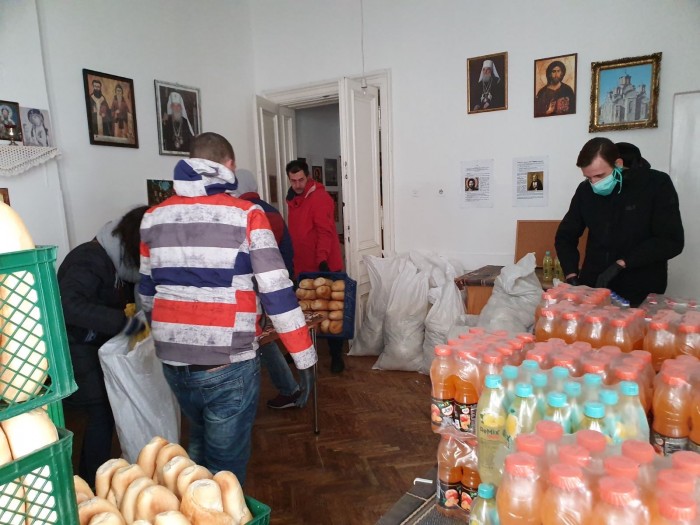 The Church Soup Kitchen
People who come daily to one of Belgrade's most famous streets, Francuska 31, have various life stories that brings them to the same place - The Church Soup Kitchen. Some of those people who come here are: parents with young children, youths in their prime, middle-aged and elderly. The reason they come varies: some have lost their jobs, some were abandoned, some receive low income pension. Majority of them are sick, disabled and homeless, but to all of them, this is their one and only daily guaranteed meal.
Thousands of soup kitchen users are following the same daily routine: arriving to the kitchen at 11 and eating together communally at Francuska 31. Sometimes they use the food provided as a take away meal for them or their families, others isolate themselves so that nobody can see them. Some of them don't even know where to go since currently they don't own a house.
Individuals who come here to eat also fear that they and their loved ones will get infected. In the most troublesome time of recent history, in the age of Coronavirus, hygiene is the first and foremost importance in the fight against the transmission of the virus. For the elderly and the sick, regular hygiene can be a life saviour.
The Ana and Vlade Divac Foundation, which regularly helps The Church Soup Kitchen, now appeals to everyone in Serbia and all around the world to help in providing kitchen users with enough essential hygiene packages - it's now more important than ever!
Anka Jaksic Erne, longtime donor of the DIvac Foundation and The Soup Kitchen donated $10.000 for the packages. In order to urgently provide packages for more than 2,600 children and adults, we must raise $15.000 dollars more. Volunteers of The Soup Kitchen, who nowadays bring food to the people at risk, will deliver hygienic packages to those unable to pick them up themselves.
Let's think of the most vulnerable, we must not let them run out of food and personal hygiene products. Let's show some solidary and prove that we care by providing people with personal hygiene essentials!
Their only hope is The Church Soup Kitchen but only you can be their saving grace by proving them with hygienic products as soon as possible.
If you have the means, please donate one or more hygiene packages!
A Big Thank you on behalf of all 2,600 people!