Together we have managed to raise $550.000 and provide relief to Serbian citizens and medical institutions in dire need of help during this time.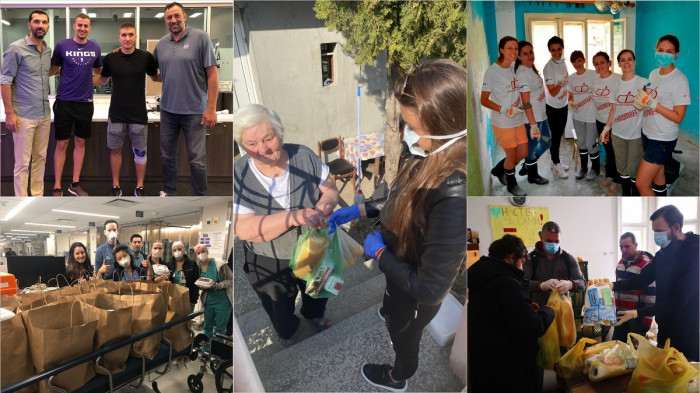 Our first Covid-19 response project was providing aid to the Church Soup Kitchen in Belgrade. 1,000 basic hygiene packages were prepared and readily available thanks to our longtime donors from the diaspora, companies and the many generous citizens who collectively donated 1.6 million dinars for vulnerable Soup Kitchen visitors.
"Our entire team was always dedicated to helping others, even though they found themselves in a situation that was a challenge for everyone," - Ana Koeshall, director of the Ana and Vlade Divac Foundation.
Mutual support

We didn't forget how important it is to help those who motivate others in the hardest of times, with your help we were able to provide support to 17 civil society organizations, informal groups, and the media who's combined goal was to promote civic solidarity and a spirit of the community during this time of crisis caused by the coronavirus pandemic.
The donations amounted to over $170.000, provided in cooperation with the Balkan Trust for Democracy and the Royal Norwegian Embassy in Belgrade which additionally set aside $217.715 for 10,000 packages of basic food and hygiene products to those citizens who were most in need of help. By the end of June, in cooperation with Group 484, we expect to deliver these packages to the most vulnerable families in more than 10 cities in Serbia. The total amount of humanitarian aid will be enough for roughly 50,000 people.
The Sacramento Kings basketball players Bogdan Bogdanović, and Nemanja Bjelica joined the Ana and Vlade Divac Foundation and together with Vlade Divac and his wife Ana donated respirators, protective masks and other medical devices worth $185.000 to various health institutions in need of support. The Foundation continued its philanthropic activities with the ongoing support of the Open Society Foundation, managing to provide a 4 month supply of hygienic equipment, packages of toys and drawing materials for children and fabric for the purpose of sewing masks worth $10.000 This went towards numerous vulnerable migrants who are taking shelter in three reception and asylum centers throughout Serbia.
We have united forces with The Serbian Philanthropic Association once again to support our healthcare heroes who have been battling against this pandemic since day one. As a means of showing their gratitude, The Serbian Philanthropic Association generously provided traditional 395 Serbian meals - prepared by Kafana NYC restaurant, Pil Pil, Marlow Bistro and The Consulate - to frontline workers of the NYU Ronald O. Perelman Center for Emergency Services.
The Foundation continued its relationship with partners of the Coalition for Giving working on the Framework for Giving Project which was funded by USAID. During the state of emergency, members of the Philanthropy Council from the Coalition for Giving proposed a set of measures to the council and the Government to help secure larger donations. These funds were intended to go towards vulnerable citizens and organizations that advocate for them including the promotion of the guideline for tax relief, the abolition of bank donation fees and VAT exemption for food donations.
The Coalition has also sent a proposal to the state to include CSOs that organize economic activities according to principles of social entrepreneurship.

The scholarship holders of the Ana and Vlade Divac Foundation, who volunteer for at least 4 hours every month have sent their personal stories and experiences about volunteering during the pandemic.
Our young people of Serbia have shown courage by providing assistance in various ways, including aiding the elderly, giving their peers free online classes, volunteering at the Red Cross of Serbia, and some individuals sewed protective masks for their fellow Serbian citizens.
These are just a few examples of the many ways the scholarship holders of the foundation selflessly gave their time during the past 9 weeks.
We would like to thank all our donors, citizens, volunteers, friends, partners, and especially health workers who helped provide support. Your unity, solidarity, and generosity that has been shown is how we help Serbia during this difficult time.