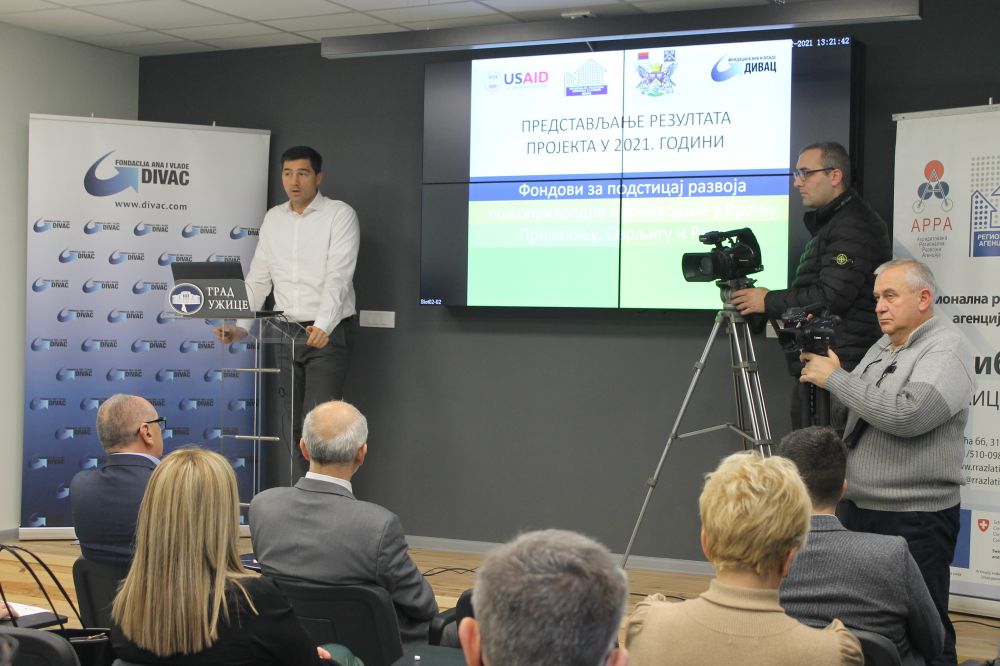 The Ana and Vlade Divac Foundation and USAID Competitive Economy Project, together with local partners, presented the results of the work of local funds established during this year and announced the establishment of new funds in Uzice and Brus which will become operational in 2022. In 2021, four funds were established in Vranje, Prijepolje, Svrljig and Razanj, with a total value of RSD 12.000.000.
"Within the Draft Budget for 2022, the City of Uzice allocated RSD 41 million for agricultural subsidies, which is 6 million more than in the previous year. RSD 4 million was allocated for the establishment of an innovative Fund for crediting and subsidizing farmers together with the Ana and Vlade Divac Foundation and the Regional Development Agency Zlatibor as the implementer of this fund," Slobodan Kuzmanovic, City Councilor of the City of Uzice said, announcing the launch of the fund in Uzice in early 2022.
He also stressed that the characteristic particularity of this fund, established with the support of USAID, is that the farmers receive a three-year interest-free loan, with a 30% subsidy, where they would repay only 10% in the first year, and 30% per year for the next two years. The funds repaid to the fund will be used in the coming years for crediting and subsidizing other agricultural producers.
Long-term cooperation of the Regional Development Agency Zlatibor and Ana and Vlade Divac Foundation and USAID has resulted in the creation of business models that support private, public and civil sectors as well as in systemic operational changes of these three sectors. "The Innovation Fund for Support to Farmers and Agricultural Business represents a systemic change in the manner of providing support. It is very significant that the number of municipalities taking part in the establishment of such a support mechanism is increasing, which means that such a service is needed and in high demand. The accredited Regional Development Agency Zlatibor has been engaged in various types of business support to all three sectors for 20 years, and this financial mechanism is sustainable in the long run and we are glad that the municipalities of the Zlatibor district have recognized and accepted it as a model. Therefore, next year, in addition to Cajetina and Prijepolje, Uzice will also have such an innovative fund," Slavko Lukić, director of RDA Zlatibor, said.
"Launching as many as five revolving funds to incentivize agriculture in just a year and a half is a huge success. This has surpassed all our expectations and confirms this financing model's sustainability. Excellent cooperation between municipalities, regional development agencies and other partners and their commitment have been confirmed in practice. Most importantly, farmers and small-scale, traditional producers, who otherwise find it difficult to acquire funds required to expand their production, can finally secure necessary funds in a transparent and simple way," Aleksandar Pavlovic, USAID's Competitive Economy Project Director, said.
The Ana and Vlade Divac Foundation has been supporting the development of small agricultural family farms for more than 10 years through donations in equipment and professional education.
"Since 2020, we have been developing a new model for accessing financial resources for farms and we are happy that the model has come to life in Serbia and that more and more local self-governments are interested in establishing a local fund for incentives for farmers. In addition to the existing funds, we have agreed on two new funds for 2022 with the municipality of Brus and a long-term partner, the City of Uzice," Uros Delic, from the Ana and Vlade Divac Foundation, said.