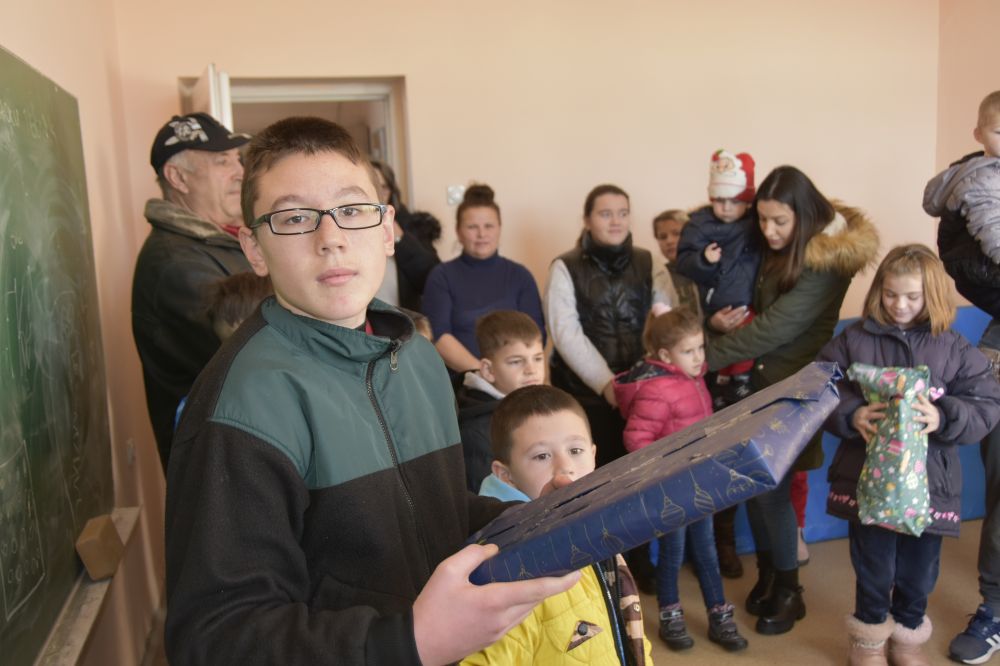 Ana and Vlade Divac Foundation continues to invest in the improvement of educational conditions in Serbia through the reconstruction of school facilities, the purchase of new and modern equipment, school books and school supplies. In the previous period, five schools were renovated, school equipment was donated to many schools, and children from Kosovo and Metohija received holiday gifts and school supplies. The total value of donations is 2 million dinars.
Education and personal development of pupils in rural schools are significantly hampered due to poor conditions within those schools. Pupils use unsafe and broken furniture, old boards and non-functional equipment, and many of them attend schools which have damaged walls or collapsed roofs. The goal of the Divac Foundation is for children in the countryside to have better conditions for education, high-quality teaching and a carefree growing up.
Divac Foundation, together with Latter-day Saint Charities organization, invests in the renovation of rural schools primarily, in order to significantly improve the quality of teaching. During 2021, we supported a total of five schools in Nis, Vranje (Vrtogos), Prijepolje (Orasac), Drajinac (Svrljig) and Madjere (Razanj). The total value of donations in these five schools is more than 1.5 million dinars, which provided better conditions for 80 children in rural schools, as well as for 30 students from the special school Bubanj from Nis.
Support to these schools includes the reconstruction of facilities, which are in a non-functional condition, but also donations in the form of school equipment. Children most often need chairs, benches, tables, desks, but also books and sports equipment. Many educational institutions were caught unprepared by winter conditions, so we helped the school from Prijepolje to replace wood stoves, that were in use for more than 50 years, with new ones. The Divac Foundation, together with its partner schools, donates interactive work equipment, such as laptops, computers, projectors, printers and modern whiteboards. All supported schools also received a package of new and useful books covering various scientific topics of interest to students.
"The donation of the projector provided us with modern learning equipment, which we use to teach through video lessons, presentations and audio material. The whiteboard is very helpful because students could no longer see what was written on the old board, and the new furniture created proper conditions for lectures. Students are also very pleased with the new creative books they have received and they read them everyday. Now, our classroom is equipped like classrooms in large city schools," Dragana Zivanovic, headteacher of the school from Razanj, emphasised.
With the support of individual donors, the Divac Foundation provided new school furniture for 250 students of the elementary school Bora Stankovic from the village of Tibuzde, while pupils from the elementary school Braca Aksic from Kosovo and Metohija received holiday gifts and school supplies.
The school Bora Stankovic in the village of Tibuzde is attended by 250 students, and unfortunately, the benches and chairs used by the children were also used by their parents, and it was high time to replace them with new, clean and safe furniture. At the beginning of December last year, the Divac Foundation launched an activity to raise funds for the purchase of new school equipment.
Thanks to a large number of donations and people with good hearts, 30 benches and 60 chairs were provided for pupils of this school with a total value of more than 330,000 dinars.
The new semester for the pupils of the elementary school Braca Aksic Lipljan, a branch in Rabovac, started with the handing out of New Year's gifts. The Divac Foundation, with the support of individual donors and humanitarian people, provided gifts for children in the municipality of Lipljan in Kosovo and Metohija.
Everyday efforts to invest in education are more than justified. Formal training is impossible if we lack chalk, markers and whiteboards, chairs, safe working conditions and basic equipment.