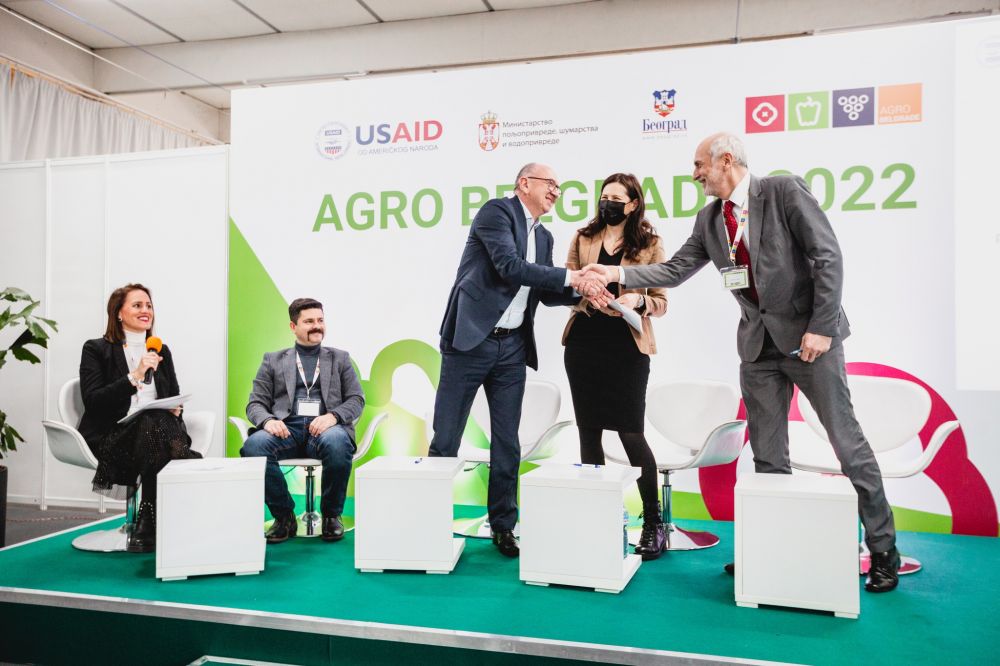 At the prestigious fruit, vegetables and viticulture fair Agro Belgrade, Ana and Vlade Divac Foundation and the USAID Project for a competitive economy presented the results of the work of local innovative funds for the incentivization of agriculture formed during the last year in Vranje, Prijepolje, Svrljig and Razanj with a total value of 12,000,000 dinars. At the same time, a significant increase in the value of funds for 2022 was announced in Vranje, Prijepolje and Razanj. Agreements on launching new funds have also been signed with municipalities Uzice, Brus, Dimitrovgrad and Veliko Gradiste and they will become operational in 2022. The total value of all established funds is more than 34 million dinars in nine municipalities.
"This project is actually a new model that will certainly accelerate agricultural production in Uzice and help young farmers and women as holders of agricultural farms to stay in the countryside, develop their production and be competitive on the market. We have a long and very successful cooperation with the Divac Foundation and in the previous six years we have invested over 27 million dinars of joint funds in subsidies received by more than 150 young agricultural producers. We are sure that this new project will also contribute to further development of agricultural production in the villages of Uzice," Slobodan Kuzmanovic, a member of the City Council for Economy and Agriculture of the City of Užice, said. He also pointed out that the budget for agriculture is increasing every from and will amount to 41 million dinars in the current year.
The goal of creating local funds is to encourage agricultural production and support farmers and food processors to improve their business, develop new products and thus provide better living conditions for their families and life in the countryside.
"Dimitrovgrad has been recognizable for more than a decade as a municipality with an extremely developed agricultural policy of rural development, and it is the only municipality in Serbia that has an agrobiodiversity park on its territory. We have recognized the Ana and Vlade Divac Foundation as a strategic partner for the promotion and support of agricultural development in our municipality, and we have already successfully implemented several projects," the Deputy Mayor of Dimitrovgrad Dragan Mancev said.
"We are aware of how much every help and encouragement means to people in the countryside, especially in smaller communities where people are in a difficult situation. Our goal is to keep our fellow citizens in the countryside, especially young people, and I am convinced that through joint cooperation and efforts we will improve living conditions in rural areas of our municipality," Dragan Milic, President of the Municipality of Veliko Gradište, believes.
The Ana and Vlade Divac Foundation has been supporting the development of small agricultural family farms for more than 10 years through donations in equipment and professional education.
"Established local funds are more than functional, and farmers use the allocated funds to develop their businesses, and increasingly more local governments are interested in establishing local funds. Due to the great interest, municipalities are increasing the size of funds, and their value will increase in the coming years. The Divac Foundation is trying to include as many new partners as possible in the upcoming period, and we are very pleased to open competitions in four new municipalities," Uros Delic from the Ana and Vlade Divac Foundation pointed out.
For all additional information, please contact Marija Batinica, Ana and Vlade Divac Foundation by e-mail: [email protected] or via the phone number 062778796.