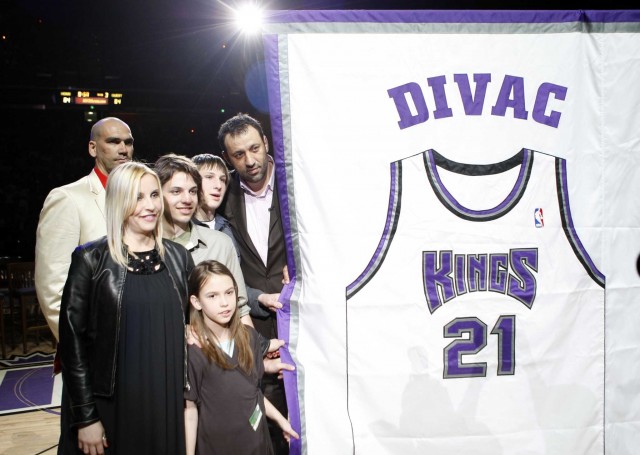 Retirement Ceremony for Vlade Divac's Jersey
From 29th March until 9th April 2008 a series of events were organized in several cities of the United States of America. A massive "retirement ceremony" for Vlade Divac's jersey, organized by the Sacramento Kings, was used as a central event for several fundraising initiatives of the Foundation. A total of US$ 150,000 was raised during these campaigns in Sacramento, San Diego and Chicago.
Fundraiser at Serbian Center, Sacramento, CA
The retirement ceremony for Vlade Divac's jersey was preceded by an event held at the Serbian Centre in Sacramento, under blessing of the Serbian Orthodox Church. A fundraising dinner was attended by more than 200 of our fellow-countrymen living in California. Special guests of the evening were Miodrag Stojaković (Predrag Stojaković's father) and the Fenix tandem Igor Kokoškov and Goran Dragić. Ana and Vlade Divac as well as Ana Koeshall, HOD Director, presented the Serbs living in Sacramento with achievements of the previous year and informed them of their future plans for 2009. Video clips filmed during Divac's visits to refugee camps in Serbia were screened during the event after which the autographed photos of Divac were auctioned and Divac posed for a group photo with all guests of the fundraiser.
Opening of Sports Hall at River Oak Centre for Children, Sacramento, CA
Before the ceremony held at the Serbian Orthodox Church in Sacramento, Vlade Divac held the official opening of a Sports Hall at the River Oak Centre for Children. The Hall was built at the centre for children victims of violence with donations raised by Senator Darryl Steinberg, who had supported all humanitarian initiatives of Vlade Divac. Divac spent an hour talking to the children, to whom he had donated balls with his autographs as well as jerseys with logos of his "jersey retirement ceremony"; finally he briefly demonstrated his basketball skills.
Fundraiser at Sacramento, CA
Humanitarian activities of the Ana and Vlade Divac Foundation (HOD) in Sacramento included a fundraiser held at the house of a very influential Greek Angelo Tsakopoulos. The auction of the autographed photos and jerseys of Vlade Divac raised significant funds. In Divac's honor the host organized special treats in the shape of Divac's jersey and a cake decorated in colors of the Serbian flag.
Charity Bowling Event, Sacramento, CA
A very successful event was a charity bowling event hosted by Divac in Sacramento where more than 300 people participated with their contributions to the Foundation. Apart from Divac, the stars of the evening were his teammates Peđa Stojaković, Scot Pollard and Bobby Jackson; a curiosity was the New Orleans Hornets center Tyson Chandler who showed up at the charity event wearing an "orthopedic boot" as a result of his previous injury.
These celebrity stars spent over three hours bowling with other guests; they also gave their autographs and posed for photos. Simultaneously, video clips from the times when Divac played for Sacramento as well as the clips filmed for humanitarian campaign "You Can Too" was screened on video beams.
Humanitarian Gifts by Sacramento Kings
Instead of giving farewell gifts to Vlade Divac and at his suggestion the Sacramento Kings handed to their former teammate a charity donation in form of a cheque for the Foundation Ana and Vlade Divac in amount of 15,000 US dollars, which was aimed for the "You Can Too" campaign. During the ceremony of hanging up of Divac's jersey in "ARCO" Arena, a memorial tablet with an inscription in Serbian was revealed: "Purchased and built by charity donations of Maloof Sports & Entertainment, Humanitarian Organization Divac, in respect of jersey retirement of the former NBA and Sacramento Kings star Vlade Divac, 31st March 2009."
Senator Joins HOD Campaign
During the game while Vlade Divac was posing for photos with other guests in a VIP booth of Kings General Manager GeoffPetrie, Senator Darrel Steinberg announced that the guests present in the box had agreed just before Divac's arrival to raise money for yet another house and thus contribute to the campaign "You Can Too".
Fundraiser in San Diego
Serbian Orthodox Church in San Diego hosted a massive fundraiser where the Foundation presented their achievements and future plans.
Cocktail Reception at Consulate General of the Republic of Serbia in Chicago
Desko Nikitović, Serbian Consul General, hosted a cocktail party at the Consulate General of the Republic of Serbia in Chicago and Ana and Vlade Divac presented to their fellow countrymen in Chicago their plans and goals in respect of their care for refugees and internally displaced people living in collective centers in Serbia. One of the numerous examples of the extremely successful presentations of the project HOD was a donation of 50,000 US$ to the campaign "You Can Too" by Dušan Petrović, Chairman of "Wrigley" who himself was born in Ivanjica and who, together with his family, had launched his own humanitarian foundation as well. In a very pleasant atmosphere Vlade Divac expressed his deepest gratitude to Petrović, Kolo Srpskih Sestara, owner of the restaurant "Topaz", his excellent host Branko Palikuća, the painter Mario Simić, originally from Kosovo, who offered several of his paintings to the charity auction, as well as to the Consul General Desko Nikitović.