The humanitarian initiative "We are running. You Can Too!" of the Foundation Ana and Vlade Divac raised a total of 680,000 dinars.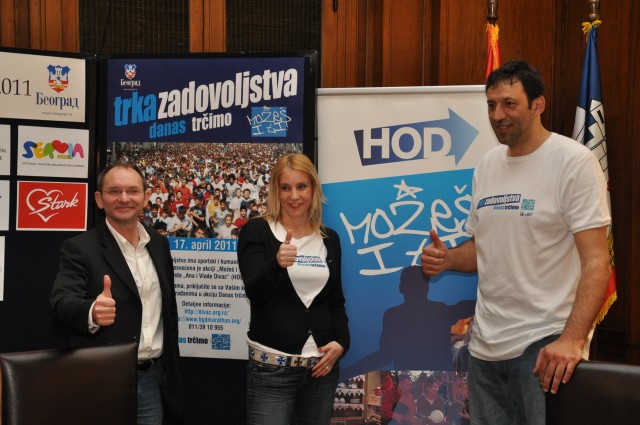 Beogradskog maratona 2011
Under the slogan "We are running. You Can Too!" one hundred participants joined the Fun Run at the 24th Belgrade Marathon and gave support to the Foundation Ana and Vlade Divac. The event raised 680,000 dinars from humanitarian donations of citizens and corporations to the families of refugees and internally displaced people living in collective centers.
"We are extremely pleased that the corporations and individuals have recognized the importance of this initiative and that they joined this traditional Fun Run in such a great number. With these funds we will additionally support those who need it the most, and it is of a great significance for all of us in Serbia. We are especially proud that another positive image of Serbia was sent to the world from the Belgrade Marathon, this time it was a combination of sports spirit and philanthropy", announced Snežana Divac, President of the Foundation Ana and Vlade Divac.
Dejan Nikolić, Director of the Belgrade Marathon spoke of the Fun Run: "City marathons in all metropolises through the world are a matter of tradition and prestige, but the humanitarian character of the race gives it special importance. This year the Serbian people again proved that besides their ever-present sports spirit and good heart, the joint effort of the entire nation is what significantly helps those in need."
The marathon humanitarian initiative also received contributions from Vojvođanska Banka, Grand Casino Beograd, Embassy of the Kingdom of Denmark in Serbia, Embassy of Austria in Serbia, NBG Leasing, transporting company Lasta, Verano Group, Erste Banka, Contrast Studio, Nelt, American Chamber of Commerce and numerous individuals. The friends of the initiative were American Chamber of Commerce, Message Advertising and DPC (Digital Printing Center).