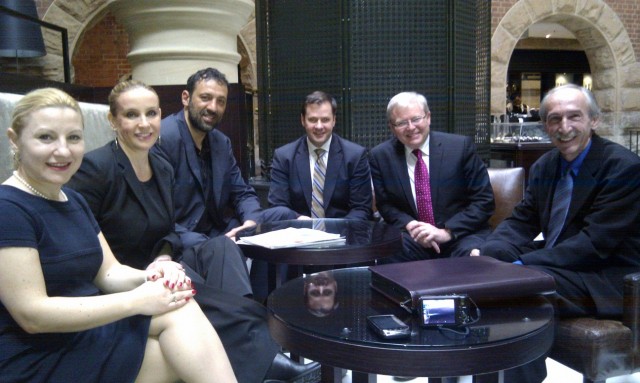 Sydney- The famous Serbian basketball player, great humanist and President of the Serbian Olympic Committee Mr. Vlade Divac, has met with Mr. Kevin Rudd, Australian Minister of Foreign Affairs. The meeting was held in friendly atmosphere, without strict protocols. Mr. Divac informed the host on Foundation activities and humanitarian initiatives with special emphasize on housing solution for refugees and IDPs. Minister was fascinated by the fact that Foundation provided 200 apartments and houses for the refugees, accommodating 300 families in Serbia until now. Minister stressed Australian assistance program for less developed countries focused on humanitarian assistance and support. This is a point where cooperation with Foundation can be established and engage Australia. "We will do everything we can to support your exceptional work", Minister said, adding his pleasure for such "deep and positive integration of the Serbian community into the all aspects of life in Australia".
Mr. Divac thanked Minister Rudd for welcoming our people in Australia and giving them a possibility to express their values and keep their national identity. Divac added that Serbian people living in Australia are putting much effort in order to present Serbia and its entire people in a best possible way. Both sides find this meeting as a starting point for future collaboration.
In further statement for "Glas Srpske", Mr. Divac especially highlighted assistance of Mr. Edo Husic, Australian Member of Parliament in organizing meeting with public and political figures of Australia. He also wanted to publicly appreciate efforts of His Grace Bishop Irinej of Australia and New Zealand stating: "Rarely one can meet a person with such energy to work on achieving unity among Serbian people. His idea on establishment of youth section of the Serbian Orthodox Church in Australia will give immeasurable help in education and connection of these wonderful, young people, not only to the Church but to the basic values of Serbian being."
Divac also said that all of us coming from the homeland must be ambassadors of our county and present the best what Serbian people can offer. The President of the Serbian Olympic Committee is continuing his visit to Serbian community in Oakland, New Zealand.
Author: Dragan Caran
"Glas Srpske", Australia