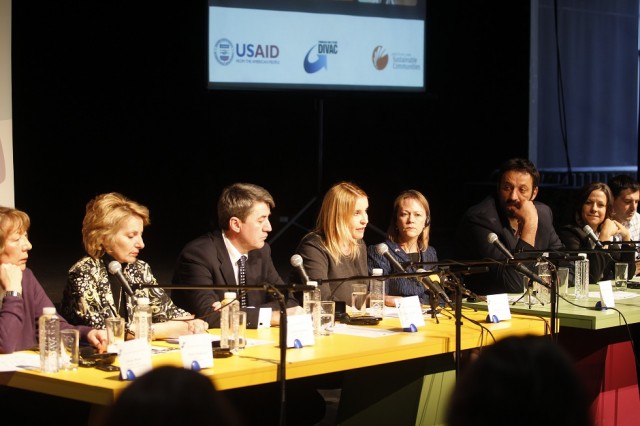 The 2nd Divac Ideas Forum (DIF), the second in a series of one-day events dedicated to the presentation and exchange of ideas on how to improve the quality of life for the young people in Serbia and to determine a clear path forward via a Platform of Action over the course of a three year period, was held on May 18, 2012, at Dom Omladine in Belgrade.
The second DIF was organized as part of the Shared Values of Serbia's Youth: Campaign and Call to Action project. The initial funding for this long-term initiative was received from USAID through the Institute for Sustainable Communities. Additional in-kind funding was received from a cluster of private companies
providing PR and advertising support to promote the national level "Stvarno Vazno/Really Important" campaign.

During the first phase of the "Shared Values of Serbia's Youth" project, the Ana and Vlade Divac Foundation brought together a coalition of civil society activists and young people for the first Divac Ideas Forum (DIF). The working groups formed at the first DIF worked over the past six months to define a Platform of Action to address and bring attention to youth-related issues and problems through a series of projects. At the 1st DIF, six thematic working groups were established in the following sectors: security; education and employment; health; culture and leisure; environmental protection; and activism, volunteerism, awareness raising and mobility. Participants from each working group, comprised of 30-60 young people, have been working on developing projects and activities within each area in an effort to improve the quality of life for young people.
The primary purpose of the second DIF was to present the results of the six working groups, comprised of more than 250 youth people, who developed a draft Platform of Action. During the event, six working groups presented their projects in order for audience members, including peer youth organizations, representatives
of bilateral and corporate donors, and ministry officials, to ask questions about the goals and objectives of the proposed projects. The event also served to incubate and foster partnerships and networks of financial and in-kind support from the government, bilateral and corporate representatives for each of the six areas that constitute the Platform of Action in order to commence with their implementation.
Full report can be downloaded here.