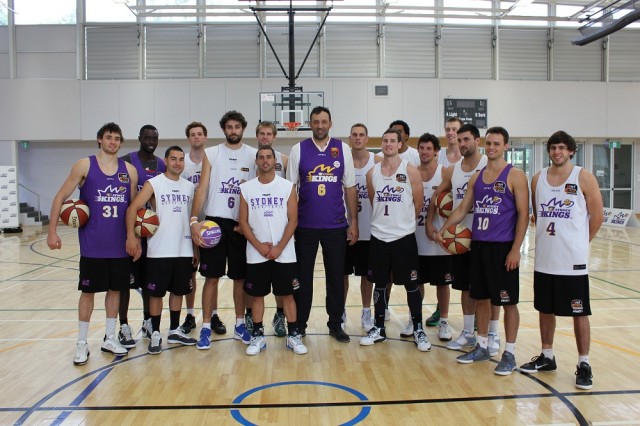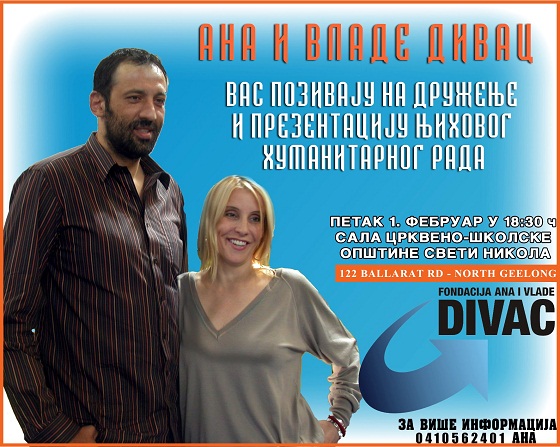 Ana and Vlade Divac, co-founders of Ana and Vlade Divac Foundation, visited Serbian diaspora in Australia and New Zealand in january and february last year, where they raised 154.000 AUD for humanitarian projects in Serbia.
Ana i Vlade Divac will in January this year visit Melbourne.
Activities during the visit:
January 26, 2013 - Melbourne
Basketball club Beli Orlovi (White Eagles) together with The
Serbian Orthodox Youth Association
(SOYA) and many other Serbian organization in Australia invite you to attend:

Humanitarian Evening for Ana and Vlade Divac Foundation

Join us on Saturday, January 26, 2013. at 7:.30pm in Serbian Sports Center, 310 Perry Road, Keysborough

Guests:
Bishop Irinej
HE Ambassador Neda Maletic
Vlade Divac

Program:
The presentation of Ana and Vlade Divac Foundation
Choir Kornelije Stanković from St Archdeacon Stefan i musical ensemble from Serbia - Tref bend

Entrance fee $50
Entrance is free for children under 15.

Proceeds from ticket sales, donations and sales of sports souvenirs signed by Vlade Divac are going for to Ana and Vlade Divac Foundation to help single mothers and homeless refugees people in Serbia.

Reservationa and information: Bozo: 0410 612 953, Stanko: 0404 239 975.
January 27, 2013 - Monastery Saint Sava (Elaine)
February 1, 2013 - Geelong
Humanitarian evening will take place on Friday February 1 at 6:30pm in Serbian Orthodox Church Hall, 122 Ballarat Rd, North Geelong, VIC.

February 3, 2013 - Church Saint Sava (Greensborough)