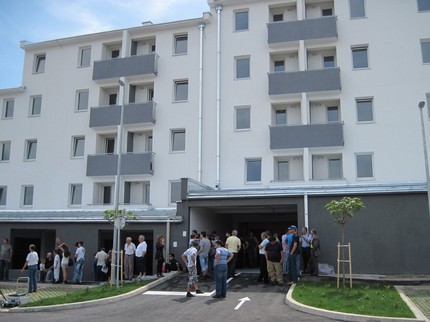 Another 40 refugees and internally displaced families who have been living in collective centers, immigrated in the new apartments in Veliki Mokri Lug

Head of EU Delegation in Serbia Vincent Degert, Head of UNHCR in Serbia Eduardo Arboleda, representatives of "Ana and Vlade Divac" Foundation, Belgrade Mayor Dragan Djilas and Commissioner for Refugees Vladimir Cucic made happy 40 of the most vulnerable families in collective centers by giving them keys from their new apartments today.

"Forty families who have been living in collective centers for years are changing the unworthy people housing with the residence in the new building. This is a new opportunity, especially for those children, and I believe they will use it. We will continue in the future to solve their major problems, which cannot be compared to the life of any other inhabitants of Belgrade ", said Djilas and congratulated all those who got a new flat.
With the support of UNHCR, IOM, the City of Belgrade, the Commissariat for Refugees and Displaced Persons, and the number of donors from around the world, "Ana and Vlade Divac" Foundation will make the objects for another 20 vulnerable families which will contribute to the closure of one of the two collective centers in Belgrade . Until recently in Belgrade, there were 6 such centers, and we hope the day will soon come when all the collective refugee centers in Serbia become history.

In the landscaping around the buildings internal roads with parking lots were carried out, and the area was decorated under greenery. The plateau for kids was constructed and equipped, as well as a basketball court, while the plateau for older users will be executed when the work on the fourth house is completed.. The plan is to build a health care center "Zvezdara" thus, this complex will be available to all residents of this part of Belgrade.