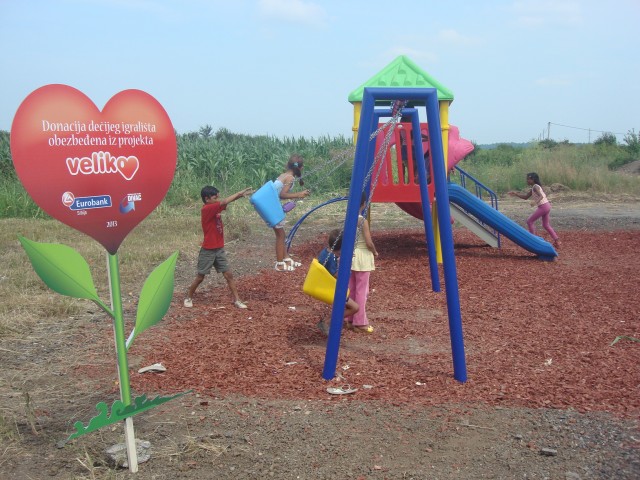 Požarevac, July 09, 2013 – Owing to the joint "Big Heart" affinity credit card of Eurobank and the "Ana and Vlade Divac" Foundation, the 18th children's playground has been opened in Požarevac, reconstructed during the three years of the project implementation and located in the new community centre in the Roma residential area, which was financially supported by the Embassy of the United States of America.
The implementation was supported by Arbeiter-Samariter-Bund Deutschland e.V. (ASB) i Initiative for development & cooperation (IDC).
The opening ceremony has been attended by Assistant Secretary of the U.S. Department of State Anne Richard, U.S. Ambassador to the Republic of Serbia HE Michael Kirby, Director of PRM/ECA John Uderriner, UNHCR representative in Serbia, Požarevac Mayor, and representatives of Eurobank and the Foundation. High officials have noted that the aim of support to this activity is the implementation of the policy of equal opportunities, so that citizens have an opportunity to be more actively involved in the areas of social and economic environment and thus gain new knowledge and deserve to be part of this society.
"We are very proud that via the "Big Heart" project we have an opportunity to provide more carefree growing up of the youngest across Serbia. We are grateful that representatives of the U.S. Embassy have selected us as a credible partner, and this has confirmed again that our ideas and the plan of humanitarian activities are recognised," said Ivan Vujačić, a member of the Executive Board of Eurobank.
Our renowned athlete and humanitarian Vlade Divac has expressed gratitude towards all users of the "Big Heart" credit card, as they have enabled the construction of another playground, and added the following: "I am absolutely certain that residents of this area in Požarevac will enjoy carefree playing. The opening of the playground in the Roma residential area in Požarevac represents the continuation of the implementation of our mission – to have all children develop safely and creatively."
The "Big Heart" MasterCard card is used as any standard credit card, and its ultimate purpose is focused on improving conditions for safer growing up of children in Serbia. Retail clients who opt for this unique card bear no additional costs, and by using it contribute to the important humanitarian cause of reconstructing playgrounds and introducing libraries in pre-school institutions. Upon each transaction, including purchases and cash withdrawals, Eurobank allocates part of its revenues to the "Ana and Vlade Divac" Foundation for the reconstruction of children's kindergartens and equipping libraries.