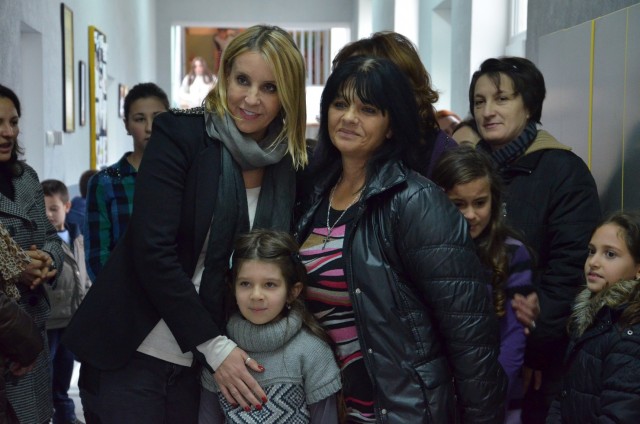 Burovac, December 17th, 2013 – The opening of the reconstructed part of "Sveta Mihajlović" School in Burovac was officially celebrated in the presence of Ana and Vlade Divac, representatives of the municipality of Petrovac na Mlavi, the school staff and local media.
Reconstruction works on the school began in October, and have been completed within the agreed time, in mid-December.
This is the first school within the ONE IN A MILLION campaign that has been reconstructed and equipped with new teaching materials and school furniture, thanks to donations from 10,000 individuals and 40 companies from Serbia and the Diaspora who supported the campaign during the first six months.
Walls were renewed in the old part of the school; ceilings were lowered and new lighting in classrooms and hallways were set; old floor was replaced with a new one; new doors to the classrooms and at the school entrance were installed.
Thanks to donations from BASF and MAGIC MAP, and considerable reductions made ​​by other manufacturers anddistributors of teaching materials and equipment (Sportimpex, LAGUNA, ALTI), the total value of the project in the amount of € 25,000 has increased significantly.
"We are delighted that our school is the first in the ONE IN A MILLION campaign, that has received funds for reconstruction. Cooperation with the Ana and Vlade Divac Foundation, as well as with all contractors was excellent, all the deadlines were met, everything was done as it was agreed" said the school principal, Blagica Milosavljević .
"We purchased new equipment for the chemistry lab and gym, magnetic boards, maps, tables and chairs for classrooms, lockers, books for the school library, technical equipment and musical instruments... We are sure that all of this will enable pupils of this small rural school a much easier and nicer start of a new semester ", said Ana Divac on this occasion.
Project ONE IN A MILLION is supported by the Ministry of Education, Science and Technology of the Republic of Serbia, and have already replaced the windows at the school in Burovac.
We are currently raising funds for reconstruction of the second school. Join us, and help reconstruct schools in Serbia!