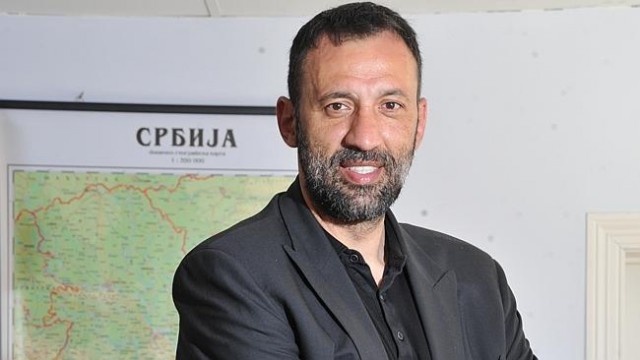 Photo: Roger Wyman
The 216cm Yugoslav superstar, the first Serbian basketball player drafted by the storeyed Los Angeles Lakers franchise, could not ignore what was happening at home while he dominated courts around the NBA.
"I left my country and there was peace," he said of his excitement at moving to Los Angeles.
"In my second year away, the civil war started.
"During the (NBA) season, I was living a normal life, and then I'd go back and see how it looked."
Many of the places he grew up in lay in shelled and devastated ruins.
The plight of the children, the innocent victims in any war, was more than he could bear.
"Going back and forth, I had to get involved. First it was with kids and seven years later, I saw a lot of refugee camps," Divac said.
It led to Divac and his wife Ana starting a foundation to raise money for housing of the many refugee families in Serbia.
In Adelaide this week visiting the local Serbian community to promote the foundation, the charismatic Divac said he had been captivated by the beauty of Australia, along with the friendliness and generosity of its people.
"This is my third year of visiting Australia and my first time to Adelaide and Brisbane," he said.
"I had never been to Australia before and always wanted to visit, and some of my friends here asked me to come.
"We just immediately fell in love with Australia. The energy is so positive in this country.
"People recognise you but they respect you. It's more like Europe where people may come up and say 'hi'.
"In the US, they're crazy about famous people."
But Divac, 45, has no regrets about his time in the US, 16 years as a professional star and in extraordinary company alongside Tim Duncan, Shaquille O'Neal, Kareem Abdul-Jabbar, Hakeem Olajuwon and Kevin Garnett as one of only six players in NBA history to record 13,000 points, 9000 rebounds, 3000 assists and 1500 blocked shots.
Already Europe's Player of the Year in 1989, his drafting by the Lakers changed his life.
"At that time, we didn't know a lot about the NBA," he said.
"We had a couple of playoff games on TV and maybe the All Star Game on tape a few months later.
"For me, when the Lakers drafted me, it was a dream come true."
Divac, the quintessential European big man with deft passing skills and shooter's touch, arrived in LA with his restricted English vocabulary.
"I could say 'hi' and 'bye' but the Lakers hired a coach whose background was Serbian," Divac said. "He helped me in the first month or so to follow practices.
"Basketball is universal. There was a big gap between NBA and international basketball at that time and I was very lucky to end up at the Lakers organisation.
"Magic (Earvin Johnson) took me under his wing."
Divac flourished, as did his vocabulary.
"The (82-game regular season) schedule was brutal but I watched a lot of movies, TV, reading magazines and day-by-day my English improved," he said.
Divac suffered a huge blow when, after seven seasons with the Lakers, he was traded to Charlotte for the rights to a young kid with potential named Kobe Bryant.
"The day they traded me was the worst day of my career," Divac said.
"The Lakers felt like family. I didn't want to leave.
"Basketball for me was fun and that day it changed."
Divac said he considered quitting but overcame his disappointment, spending two years with Charlotte before six stellar years at Sacramento Kings.
Divac made such an impact at the Kings, the club retired his #21 jersey.
And, as luck would have it, he eventually was traded back to Los Angeles, completing his career with the Lakers and alongside Bryant.
So which player - Magic or Kobe - is the definitive Laker?
"That's a tough question," Divac said. "Magic Johnson was the guy who started the Lakers history when they (the club) moved to LA.
"And Kobe is a Lakers ambassador for today's generation."
It is no wonder Divac, the jovial giant, was so popular among his teammates.
As a foreigner drafted into the NBA though, he had a word of advice for Australia's 18-year-old tyro Dante Exum, who declared for June 26's draft this week and is projected to go in the top five picks.
"Work on your game before you go," Divac suggested.
"Once you are there, the schedule is so difficult."
When he is not raising money for refugees and spreading goodwill worldwide, the dual Olympian and inductee to FIBA's Hall of Fame is busy in his role as president of Serbia's Olympic Committee.
"I accepted that job because sport gave me everything," he said.
"I am happy to be in a system which can help the youth in Serbia achieve their dreams like I achieved mine."
There's no rest in sight for Divac, whose Australian tour this year also took in Melbourne, the Gold Coast and Perth today.
Last weekend at Melbourne's Docklands Courts saw the staging of the first Vlade Divac 3-on-3 basketball challenge.
"It was very successful and we're going to try and set it up for a lot more teams," Divac said.
Clearly, he is coming back.
"We have fallen in love with Australia," he said.