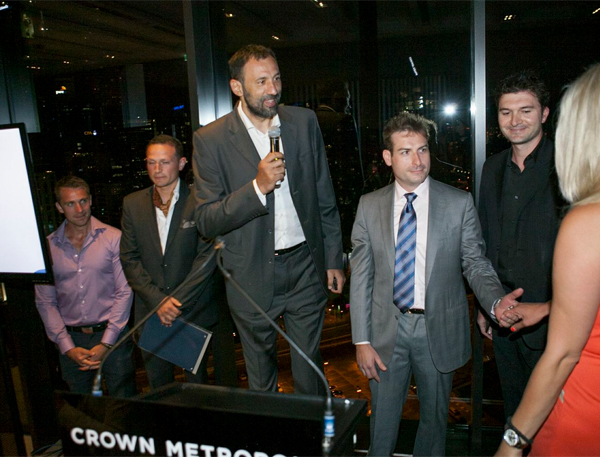 On Saturday, 25th of January, the Serbian Orthodox Youth Association of the Metropolitanate of Australia and New Zealand – SOYA – Victoria once again hosted a charity cocktail evening in order to raise funds for the Ana and Vlade Divac Humanitarian Foundation.
Vlade Divac is well known as a successful professional basketball player in the USA's NBA League. Vlade was drafted in 1989 by the Los Angeles Lakers where he played alongside Magic Johnson and against other Basketball legends such as Michael Jordan. Since his retirement, Vlade and his wife Ana established the Foundation which is dedicated to the care and economic empowerment of refugees and displaced persons and to improving the status of children and youth. The mission of the Ana and Vlade Divac Foundation is to contribute to the development of an equal, tolerant and unified Serbian society.
At the last fundraising event at the Hilton Hotel in 2012, SOYA Melbourne generously donated almost $45K which directly contributed to the overall effort to provide housing to 515 families living in collective centres throughout Serbia. This year, 143 families remain living in those centres.
Saturday's event was held at Melbourne's prestigious Crown Metropol Level 28 Skybar and was attended by a sell-out crowd of 200.
Guests were treated to canapes and an extensive drinks list courtesy of the night's major sponsor TV Plus.
All proceeds from the tickets sold went directly to the Foundation.
Guests were welcomed by His Grace Bishop Irinej of the Metropolitanate of Australia and New Zealand, and then had the opportunity to hear from Vlade and Ana Divac. They showed guests videos shot at the collective centres and featuring interviews with the families.
Ana Divac told guests about the foundation's new project "One in a Million" which aims to improve the education of children through the provision of equipment and reconstruction of primary schools throughout Serbia. Many primary schools in Serbia are lacking basic working conditions such as heating, bathroom facilities, school benches, sports equipment, computers, geographic maps, and other equipment which would be considered as basic for the 21st century. The goal of the campaign is to gather one million people who will donate 1 EUR per month (12 EUR per year). By joining the campaign, each individual can contribute and participate in solving the problem by becoming "One in a Million".
The night then featured an auction of basketball memorabilia including Divac's shoes and jerseys, Kobe Bryant's signed jersey as well as a tailored suit by Eduardo Xavier and a designer dress by Natasa Pitra.
Talent on Demand put on an exciting fashion show featuring both female designs by Borscha and male designs by Eduardo Xavier.
Each guest was treated to a free $300 facial and makeover by Arbonne and had the opportunity to enter the raffle for some truly amazing prizes. The top prize was 2 return tickets to Serbia generously donated by AirSerbia.
At our particular event we have jointly raised 32,650 AUD for the homeless refugees in Serbia.
This in addition to other funds raised during the recent Australian visit raised a total of 100.605 AUD. With these funds, we will close collective centre in Smederevo, and provide new home for 103 families.
It is such a wonderful achievement and we all can be grateful for our significant contribution in changing lives for these families.
Thank you so much for support and for being part of something special.
Planning has already begun for our event next year!! Look out for more details in the coming months.
Article by Marija Vukoje
Photos by Goran Dojcinovic