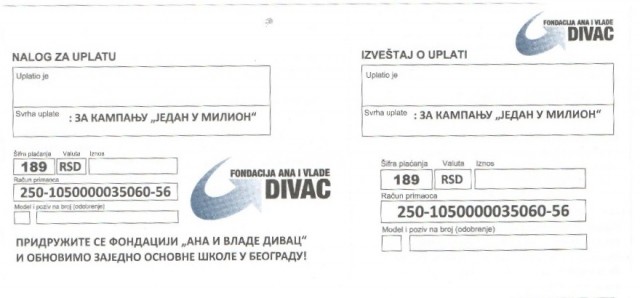 Belgrade, 06 February 2014 - Foundation "Ana and Vlade Divac" and the Public service "Infostan", with the support of the City of Belgrade are implementing the joint action "One in a million" during February, raising funds for the equipment and reconstruction of primary schools in Belgrade.
Citizens of Belgrade together with the January bill of "Infostan", will receive an invoice for the voluntary donation to ONE IN A MILLION campaign. The ones who would like to support this action may this way very simply donate any amount of money.
Foundation "Ana & Vlade Divac" has launched the campaign ONE IN A MILLION with the aim of providing the opportunity for quality education to every child in Serbia and development of their potential. All funds raised in the joint activity of "Infostan"and the Foundation will be used to purchase new equipment and renovation of primary schools in the city of Belgrade. The children will be provided with new desks, chairs, closets, tables, cabinets and gym equipment, computers and more. The maximum cost of works and equipment per school is up to 25,000 euros. Participation in the action is voluntary.
"Each of our fellow citizen can join the campaign with symbolic donation, and thereby help to provide better conditions for the education of our children. As a parent, I believe that investment in children is the most important and most appropriate investment in the future. Until now, many people of good will have joined and supported our charity campaigns, and I'm sure it will be the same this time" said Ana Divac, chairwoman of the Board of the Foundation.
On the back of the invoice, the results of previous joint action of the Foundation and "Infostan"- "Let's all help" are listed. During 2013 it was supported by over 11,000 households in Belgrade, donating more than 3.8 million dinars for the construction of buildings for social housing in protected conditions in the City of Belgrade.
ONE IN A MILLION is supported by the Ministry of Education, Science and Technological Development, with media support of Radio Television of Serbia.
Read more information about the campaign on www.milionsrba.com