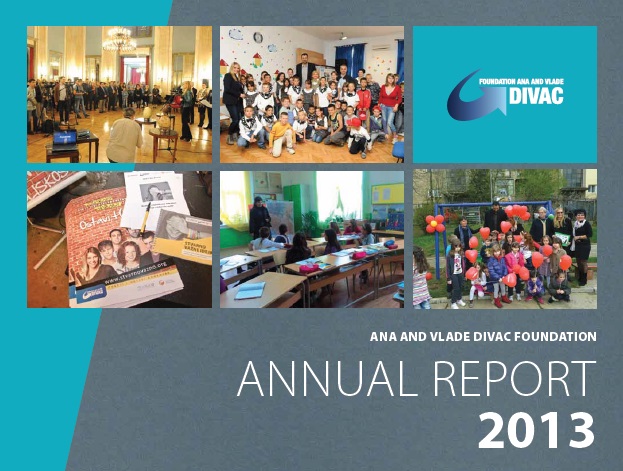 In 2013, the Foundation focused on youth. The main idea behind our work with youth, which is basically supporting ideas coming from youth, has gained its full purpose through our new project –
Divac Youth Funds
(DYF). Through the DYF the Foundation empowers youth and increases their participation in local development processes, by awarding grants to projects initiated and led by youth. Last year we supported over 50 youth projects set in local communities with participation by over 40,000 youth throughout Serbia. On the other hand, the matter of employment of both youth
and socially vulnerable citizens, as one of the most pressing social problems, remains in the focus of our work. In order to contribute to creating an environment for adding new jobs, including business start-ups, last year we supported both social and youth entrepreneurship through grants and various types of trainings and technical support.
Last year was marked by a kick-off of another national campaign – "
One in a Million
" for the purpose of supporting the renewal of primary schools throughout Serbia. With the intention to create good quality schools for the education of children in Serbia, over 70 companies and 30,000 people joined us; two schools have already been renovated and the renovation of another three is on-going.
We paid special attention to empowering single parents, rural families and our newly started project "
Babies are IN
" by which we plan to tackle the problem of the ever declining number of babies in Serbia. In the coming years the Foundation will try to support the survival of single parent families and families who live in villages in more and more difficult economic and social environment.
In 2013, the Foundation actively worked on raising awareness and demonstrating the importance of participation by all partners in social changes and philanthropic activities. We have always believed that every contribution is important and that only together we can change the reality in Serbia. As a result of multiple fund raising dinners, concerts, exhibitions, sporting and other events that we organized in Serbia, USA and Australia, over 580,000 individual and a large number of companies joined us.
We would like to thank all of those who have recognized us as a responsible partner and supported activities which, as we strongly believe, improve our society and change the lives of people. It is upon all of us to take a look around ourselves and use goodness to change the world.
Ana Koeshall
Director