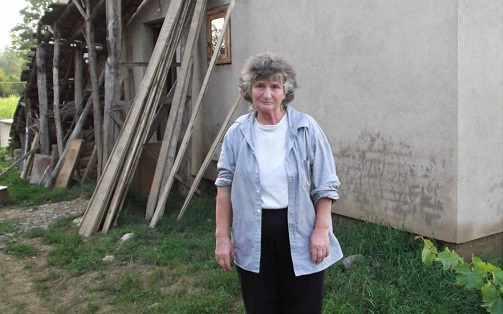 Nedeljka Đumić from Mionica near Valjevo, had already once left her home. Twenty years ago, she fled with her children from Bihac (Bosnia and Herzegovina) and they had settled in Mionica. She was selling clothes and other things and trying to survive and to feed her sons. After a few years, she managed to save up some money and buy a piece of land in Mionica near Valjevo and started building a house.
Both of her sons, Dragoslav (33) and Darko (35) have acquired a disability. One was injured while working on their house, other experienced different trauma in their refugee life and both of them are in need of constant medical therapy. They are unable to work and help their mother. Family lives on a social help which is 13000 dinars on monthly bases. Despite the circumstances, she has made a greenhouse, producing vegetables for their own needs.
The May floods ruined all they had, both unfinished house and the garden. Once again, they were refugees, and needed to leave their home. Social service has settled them in collective center in Valjevo, which was only temporary. With the help of employees in UniCredit bank in Slovenia, who collected 6000 EUR, Nedeljka will be able to return to her house with her sons and go on with her life.