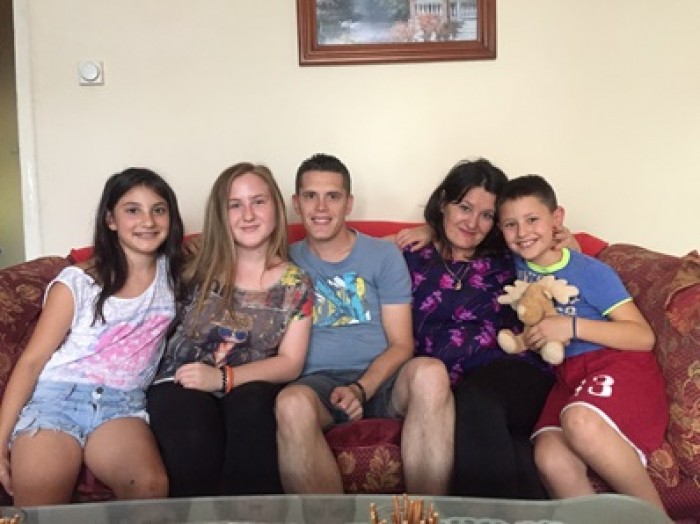 | | |
| --- | --- |
| Name of the project: | Buying a house for family Drljaca |
| Location: | Vranje |
| Target amount: | Target is 15,000 EUR, we raised 15, 566 EUR. |
Wonderful news! In just 24 hours we have managed to fundraise over 2,000 EUR needed for purchasing of a small house in Vranje for single mom Radmila and her 4 kids.
Thanks to all of you we have raised 566 EUR over our goal, and will use it for provision of home appliances.
Many, many thanks for your quick response and generosity!
Single mother of four Radmila Drljaca has escaped from Bihać 1992. to Republika Srpska Krajina and on that occasion her partner was killed. She was pregnant with his child and they should get married.
She lived with her son in Krajina until 1995. and during "Oluja" she escaped to Serbia. She moved a lot of times, and in 1999. she met her second husband who is father of three of her children.
In 2002. she became victim of domestic violence, and in 2014. she left her husband who got restraining order and got sentenced with 3 years probation for domestic violence. Radmila lives as sub-tenant with four chlidren in Vranje.
Radmila has vision defect (dioptry on eyes is -15 because of the violation she got in domestic violence) which higly determinate range of activities she can do.
She and oldest son are unemployed and three other children are going to school. This five-member family lives on public assistance (215 EUR for month). Radmila pays rent for house where they live at moment (100e) and monthly bills (80e).
She and her oldest son doing seasonal jobs, cleaning, menial work etc. and trying to provide conditions for education of three younger children.
Our goal
The goal of this project is to provide home for family Drljaca. They find the house which is well enough for decent life and new start for family. The price of the house is 15 000 euros.
For many years Divac Foundation has two donation boxes at Belgrade airport "Nikola Tesla". All the raised funds from the travelers who donate are used for providing homes for refugees and internally displaces persons.
By now we get 9000 euros thanks to donators from the airports for the home.
Group of donators from Holland pledged 2000 euros and also other donators 4566 euros.
This house that Radmila find is placed in Vranje. It has 80m2, 3 rooms, bathroom, kitchen, living room and garden.