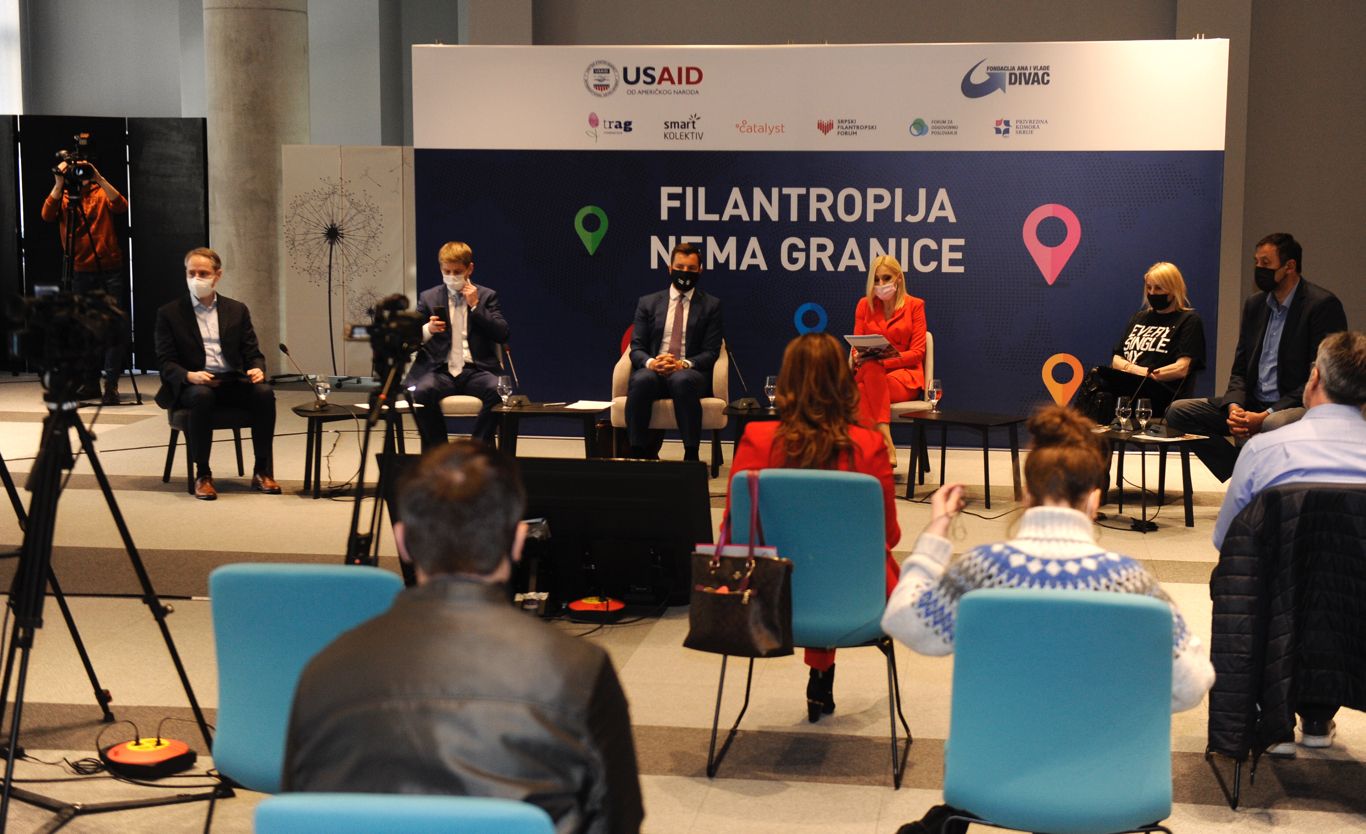 Belgrade, March 2, 2021 - Throughout 2020, a total of 4.25 million US dollars came to Serbia in form of donations from Serbian diaspora. Almost 46 percent of those donations, or USD 1.95 million, were dedicated to COVID-19 related projects and initiatives, while 54 percent, or USD 2.3 million, were dedicated to other causes, mainly poverty relief and medical treatments. These are the latest findings of the analysis by Catalyst Balkans, presented today at the panel discussion "Philanthropy without borders", organized by Ana and Vlade Divac Foundation, with support from the United States Agency for International Development (USAID).
"We started our humanitarian work and sending help to Serbia while we were in diaspora. Today, when we have our base organization in Serbia, we have large support from our people in diaspora," said Vlade Divac, famous NBA basketball player and founder of Foundation Ana and Vlade Divac.
The first day of the panel discussion "Philanthropy without borders", gathered over hundred participants from Serbia and from the USA, Germany, Austria, etc, to discuss involvement and cooperation between non-profit organizations in Serbia and Serbian diaspora in crisis situations, not limited to the material or financial donations but also involvement in terms of providing expertise, cultural exchange, etc.
"Why people from diaspora want to help people in their homecountry? Because philahtropy does not have borders. When you are away from your country the sense of belonging is even stronger. In globalized world without borders the sense of belonging is important for identity but also drives solidarity", said Arnaud Gouillon, acting director of the The Office for Cooperation with the Diaspora and Serbs in the Region.
"Through our activities and partnerships like these, we are trying to create the same opportunities for a good future here in Serbia that so many of you went abroad to seek," said Shanley Pinchotti, Director of the Office of Democratic Governance and Economic Growth, USAID Serbia.
The most of financial donations in 2020 came from Serbs who live in Germany, almost 40 percent, Canada 24 percent, and the US 19 percent. Thanks to diaspora's donations, significant amounts were invested in hospitals throughout the country, especially in Tutin, Kragujevac, Kruševac, Novi Pazar, Prijepolje, and Valjevo.
Ana Divac, founder of the Ana and Vlade Divac Foundation, thanked Serbian diaspora for such a generous contribution despite the fact that this crisis was global and affected everyone including the members of Serbian diaspora and their families. She also stated that Serbian diaspora has a history of providing significant assistance to social causes in Serbia especially during the crisis situations, and that was evident in the past during the floods in 2014 for example.
The significance of good cooperation between organizations in Serbia and diaspora was emphasized also by John Jovanovic, Senior Advisor, Concordia, our famous violin player Stefan Milenković, Nenad Paunovic, Director of the IT and Entrepreneurship Team in the Office of the Prime Minister of Serbia and Arnaud Guillon, Acting Director of the Directorate for Cooperation with the Diaspora and Serbs in the Region, and many others.
The second day of the panel discussion related to diaspora, planned for tomorrow, is reserved for talks about media in diaspora and improvement of reporting about activities and problems of Serbian diaspora. All interested participants can visit the event page on https://www.divac.com/filantropijanemagranice and sign up for the event.
This was the third panel discussion "Philanthropy without Borders", organized within a project Framework for Giving, funded by USAID and implemented by the Coalition for Giving led by the Ana and Vlade Divac Foundation. Other Coalition members include the Trag, Catalyst Balkans, SMART Kolektiv, the Serbian Philanthropy Forum, the Responsible Business Forum, and the Serbian Chamber of Commerce and Industry.