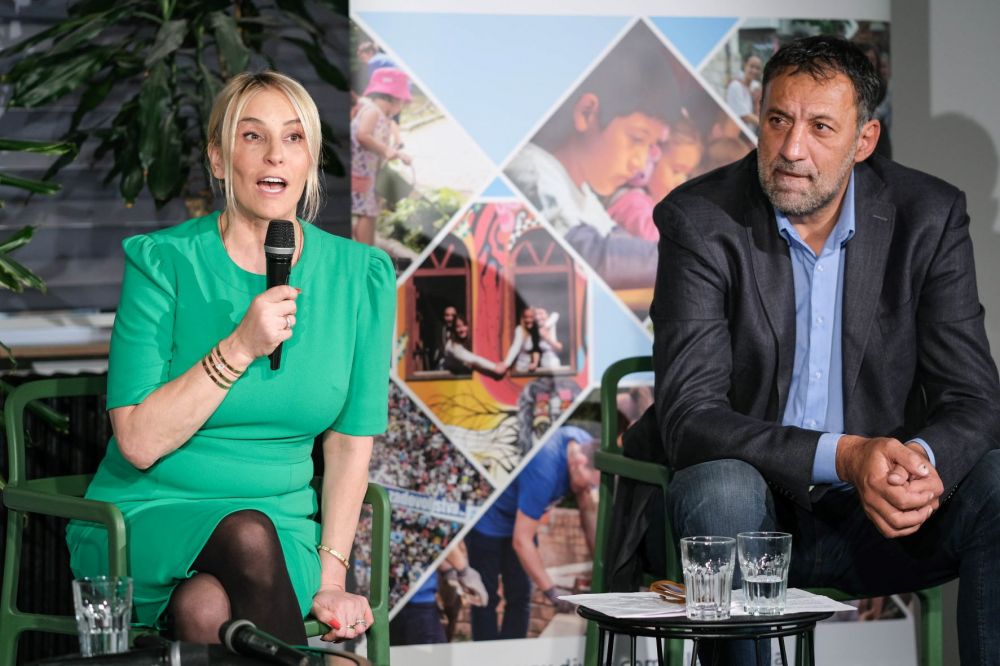 In 2021, with the help of our partners, donors and citizens, Ana and Vlade Divac Foundation raised USD 2.1 million to help the citizens of Serbia.
We supported 52,000 people through various humanitarian and development projects, with a focus on supporting farmers, youth projects, economic empowerment of the most vulnerable groups and entrepreneurs. The Foundation was also committed to promoting gender equality, as well as to the strategic development of philanthropy and fostering a culture of giving, in line with our mission of an equal and tolerant society.
Providing conditions for a better quality of life for citizens meant the reconstruction and equipping of private and public facilities throughout Serbia. We have reconstructed and equipped homes for 24 families and 70 educational institutions received new digital equipment, furniture and textbooks.
More than USD 220,000 has been invested in improving the health care system across the country. We have completely reconstructed and equipped the outpatient clinic for oncology patients in Krusevac, and as many as 8 hospitals and health centres received new medical equipment. Our citizens in Kosovo and Metohija have not been forgotten either, so apart from the support to families at risk in Kosovo and Metohija, help also reached the hospital in Kosovska Mitrovica, which received the most advanced biochemical analyser.
Through our Economic Empowerment Program, 105 farms started or developed its own business and agricultural production. In cooperation with 10 local self-governments, assistance was provided in the form of domestic animals, seedlings, agricultural machinery or construction materials. In addition, 6 women entrepreneurs, from marginalized groups in Belgrade, received grants for the development of self-employment and mentoring, while 406 people completed professional training and gained qualifications, most of whom are young people and members of the Roma national minority.
In collaboration with a group of U.S. donors, the program IT Bootcamp continued - a non-profit school for retraining in the IT sector, which was attended by 408 students for free, and 45 percent of them found a job or internship in the IT field.
As many as 283 Divac scholarship recipients who achieve excellent results in school and come from financially disadvantaged families, regularly received monthly scholarship. The number of donors and partners who support these hard-working, young people is increasing every year, and we hope that in the coming years that number will be even higher, considering the number of young people who need help. More than 2,500 students in 35 primary schools across the country received philanthropy training in cooperation with the Teachers' Union of the Republic of Serbia.
In 2021, we fought hard and openly, as we did before, for gender equality and labour rights. We promoted the goals of sustainable development and equality for all, and empowered young people to become more actively involved in the social, economic and political life of the country and region. The assistance of the Divac Foundation also included support for projects implemented by 39 civil society organizations through grants, capacity building and mentoring. Together with partners, we published 18 expert studies relating to youth participation, employees' mental health, agricultural activities, philanthropy and discrimination in society.
Together with the partners from the Coalition for Giving, we advocated for the abolition of VAT on food donations, which would lead to a significant increase in donations and poverty reduction, but also contribute to environmental protection. As part of the campaign "Save food, save humanity", almost 70 tonnes of food was collected for the most vulnerable citizens.
We are particularly grateful to the media, for making it possible for news of charity to be heard among citizens all around Serbia through 1960 publications during 2021.
The Ana and Vlade Divac Foundation is grateful to all partners in the country and the diaspora, the media and donors for their trust and support in the past year. Thank you for being a part of the Divac team in 2021.