Divac Foundation and USAID activities within Mikser Festival to be held from Thursday 25 till Sunday 28th May at Silosi Zitomlin at Dorcol.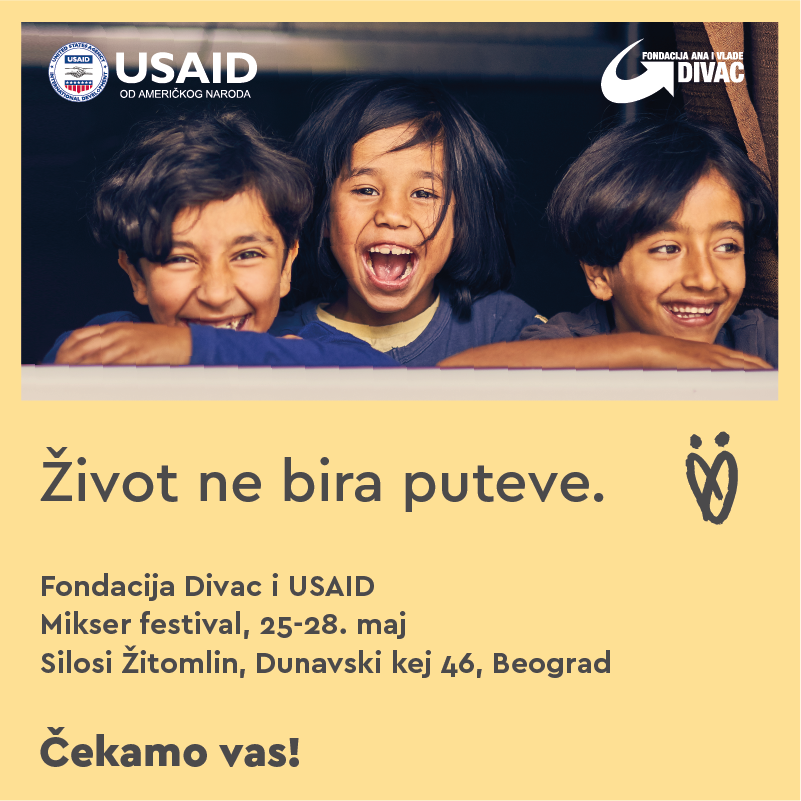 Mikser Festival 2017.
The topic of the Festival is migrations and we have our program titled "Life does not choose its paths" according to the topic and the name of our campaign.
We are opening our stand tomorrow, on Thursday, at 17h, and closing it on Sunday at 21. During the Festival, at our stand will be placed the exhibition of TANJUG photos made in the field while covering refugee crisis in Serbia from 2015 till now.
Besides photo exhibition, we organize following events and would be glad if you and your colleagues would join us.
Agenda:
26th May, Friday, 17: 30 - 18:30 Migrants preparing traditional Middle East meals at Divac Foundation and USAID stand (visitors are invited to take part in meals preparation, please, join us)
27th May, Saturday, 16:00 - 17:00 Fashion show at Mikser Talks corner/ there will be presented models made by women migrants that attended Divac Foundation sewing course in Asylum center in Krnjaca
28th May, Sunday, 12:00 - 14:00 Drawing workshop for children/ there will participate little boy Farhad, refugee from Afghanistan, who became famous for his paintings, at the moment he is with his parents in Asylum center in Krnjaca
In addition to this program organized by Divac Foundation and USAID, within Festival, Mikser is organizing two debates where will speak representatives of Divac Foundation, so you may attend these events too:
Saturday, 27th May, 19:30 - 20:30 Debate: Migrants in Serbia: What next - one of the panelists at debate is Ana Koeshall, Divac Foundation Director
Sunday, 28th May, 17:00 - 18:00 Debate: Education on the move, - one of the panelists is Ivona Gvozdenovic, project coordinator at Divac Foundation
Looking forward to see you all there!