The "SDGs for All" Annual Online Conference will be held on KUDO platform on December 8 and 9 (Tuesday and Wednesday) at 11 am.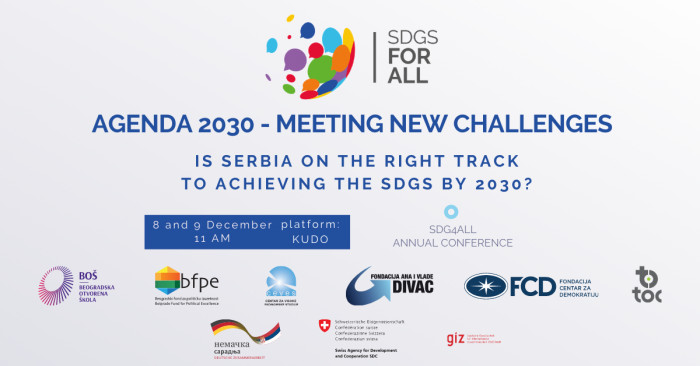 Objective of the conference: to bring together key non-state actors and decision-makers, at both national and local levels, to discuss the best ways for the alignment of Serbia's development priorities with the objectives in the 2030 Agenda.
Time: December 8 and 9, 2020, @ 11:00.
Who: The "SDGs for All" Platform is supported by the Governments of Switzerland and Germany and implemented by Deutsche Gesellschaft für Internationale Zusammenarbeit (GIZ) GmbH within the project "Public Finance Reform - 2030 Agenda". The Platform is implemented in partnership with the coalition of local civil society organizations.
Where: Annual Conference "2030 Agenda - Meeting the New Challenges", will be conducted virtually, with the participants joining the conference via the KUDO platform.
APPLY HERE.
Introductory remarks:
Ms Françoise Jacob - UN Resident Coordinator
Mr Urs Schmid - Swiss Ambassador to Serbia
Mr Thomas Schieb - German Ambassador to Serbia
Panelists:
Prof Dr Slavica Đukić Dejanović, Special Advisor to PM of Serbia for Agenda 2030,
Mr John Kennedy Mosoti, Regional Director, UNFPA
Mr Yngve Engstroem, Head of Cooperation, EU Delegation to Serbia and many others…
DAY 1: Tuesday, December 8
11:00 - 11:25 Opening Remarks
11:30 - 12:30 Panel Discussion I: Global Challenge - Different Perspectives
12:35 - 13:35 Panel Discussion II: Serbian Challenges - Identified Gaps and Proposed Ways Forward
DAY 2: Wednesday, December 9
11:00 - 12:00 Panel Discussion I: Success Stories from the Zlatibor County
12:05 - 13:05 Panel Discussion II: Challenges and opportunities for driving sustainable and inclusive growth by the local businesses
13:10 - 14:10 Panel Discussion III: Acceleration of the 2030 Agenda implementation process through the partnerships - Project experience from the Y1
14:10 - 15:10 Close Out
APPLY HERE.