The Center for Social Integration (CDI) realized the action "You are not alone, we are with you" to provide support to people suffering from COVID 19 in Vranje, as well as health workers who fight for their lives every day.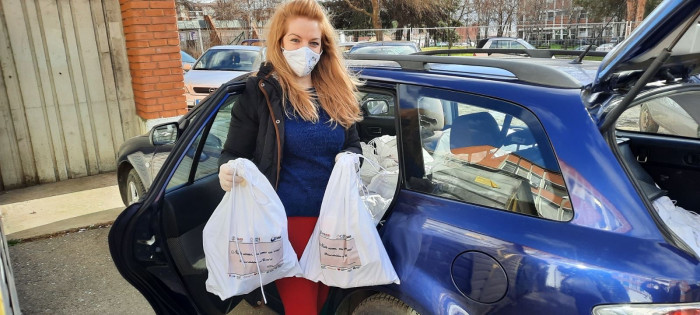 Vranje, December 30, 2020. In the period from November 1 to December 25, 2020, activists of the Center for Social Integration collected help from citizens who donated personal hygiene products (disinfectants, alcohol, wet wipes, napkins, toilet paper, hygienic masks, disposable gloves, and others consumables used in the care of patients with Covid 19). The value of the collected donation is 726,000 dinars.
With the help of CDI volunteers, packages were made for the ill people, which, among other things, contained messages of support, encouragement, and wishes for faster recovery, which citizens sent via e-mail and mailboxes specially designed for this purpose, which was placed on five locations in the city. In this way, the citizens expressed their support and empathy.
243 messages were collected, of which 200 were printed.
The aid packages were handed over to the management of the Vranje Health Center, which is in charge of distributing this aid to the patients hospitalized due to Covid 19 infection.
As part of the action, 47 individuals, companies, non-governmental organizations, private entrepreneurs, and other institutions from Vranje, Vranjska Banja, Nis, Leskovac, Belgrade, Surdulica, Novo Brdo, Presevo, Svilajnac, and Vrsac responded, to whom we publicly thank for their participation.
The project "You are not alone - we are with you" was supported by the Ana and Vlade Divac Foundation, which leads the Coalition for Giving within the "Celebrate Philanthropy" competition, for which we are grateful because they enabled us to be part of a larger project to celebrate philanthropy.
The Framework for Giving project is funded by USAID and implemented by the Coalition for Giving, led by the Ana and Vlade Divac Foundation. Other Coalition members are the Trag Foundation, Catalyst Balkans, SMART Kolektiv, the Serbian Philanthropy Forum, the Responsible Business Forum and the Serbian Chamber of Commerce and Industry.